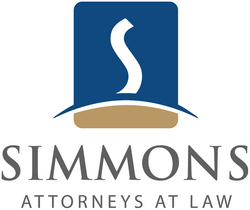 It is inspiring that so many of our employees and friends, their families and other local businesses have given so generously.
East Alton, IL (PRWEB) May 27, 2010
The Simmons firm announced Friday its fourth annual Simmons Employee Foundation Charity Auction raised more than $200,000 to benefit two Madison County charities, The Catholic Children's Home, in Alton, and The William M. BeDell Achievement and Resource Center, in Wood River.
More than 500 people, including Simmons firm employees, friends and family and local businesses showed their support for the two charities by selling out the Thursday, May 20 event at the Gateway Center in Collinsville, Ill. The evening's program began with a cocktail hour and silent auction followed by a noisy, live auction.
"We are thrilled with the result of the Fourth Annual Dinner Auction," said John Simmons, the firm's founding partner. "It is inspiring that so many of our employees and friends, their families and other local businesses have given so generously. On behalf of the firm, I would like to thank each and every one of the participants and contributors."
The live auction featured 26 items, ranging from Cardinals tickets and the new Apple iPad to a police ride-a-long, a 7-day European vacation and more. Local business, community groups, and individuals who donated items to be auctioned included the Simmons firm, Illinois Pet Fence, Gateway Landscape & Sprinkler Systems, Inc., The Alton Police Department, Sunset Hills Country Club, Hurford Architects, Darin & Laura Hendrickson, Holland Construction, First Leaf Clover Bank, Jeffery Mastroianni, DMD MS, and Bluff City Tours.
"We cannot say thank you enough to everyone who helped make the auction so spectacular," said David Bamper, president of the Simmons Employee Foundation. "Without the support of the local businesses and the community, we could not host such a successful event that provides needed funds to charities like The Catholic Children's Home and ARC who make our community a better place by helping children in need."
The William M. BeDell Achievement and Resource Center is a not-for-profit organization working to improve the lives of Madison County residents with developmental disabilities. Created in 1957, The ARC provides high quality programs to children and adults affected by developmental disabilities. The programs focus on educational and therapeutic initiatives that encourage physical and mental development.
The Catholic Children's Home is a special place for children in need. Dedicated to helping children who have been neglected or abused, the CCH created a safe haven for children and families in crisis. Their Special Education Day School was developed specifically for children with learning disabilities and developmental or behavioral disorders.
About the Simmons firm:
The Simmons firm is one of the country's leading asbestos and mesothelioma litigation firms. With offices in Illinois, Missouri and California, the firm's asbestos lawyers have represented over 2,000 patients and families affected by mesothelioma in nearly every state. The Simmons firm has pledged over $15 million to cancer research. For more information about the Simmons firm, visit http://www.simmonsfirm.com.
About Simmons Employee Foundation:
In late 2004, the employees of the Simmons firm came together to create a single, streamlined way for them to give back to the communities they are so proud to call home. As a result of their creativity and heartfelt commitment, the Simmons Employee Foundation (SEF), has provided nearly $1 million of financial support and countless volunteer hours to local charitable organizations.
# # #