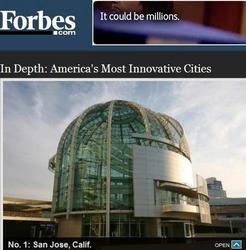 San Francisco, CA (Vocus) May 27, 2010
Forbes.com has once again partnered with ZoomProspector.com, this time to identify ''America's Most Innovative Cities.''
Forbes leveraged ZoomProspector data on the concentrations of creative professionals in the largest cities to determine the most innovative cities across the nation. According to the article, ''For (Forbes') ranking we started with the 100 largest metropolitan statistical areas in the U.S. and used data from the U.S. Patent and Trademark Office to determine number of patents per capita. Then we combined it with venture capital investment per capita from the National Venture Capital Association, along with those cities' ratios of high-tech, science and 'creative' jobs from ZoomProspector.com and Payscale.com.''
In the past, Forbes has partnered with ZoomProspector.com to determine ranked lists of America's Fastest-Changing Cities and America's Top 25 Towns To Live Well, in addition to providing a custom made and fully integrated map directly on the Forbes.com website.
According to Eric Simundza, Product Manager for ZoomProspector.com, "ZoomProspector is pleased to continue our relationship with Forbes to supplement its research with our geo-location data. For this analysis, Forbes incorporated our data for workers in creative professions to complete their rating system. The result is a comprehensive look at both where innovation is occurring in this country and where creative people live."
Businesses around the country can leverage ZoomProspector.com's patent-pending search technology to analyze tens of thousands of communities and available properties nationwide, in order to find the best location to match their needs. Using GIS and sophisticated online mapping technology, ZoomProspector.com enables businesses to search by type of commercial real estate, including office, industrial, warehouse, retail, vacant land, call center and flexible space. Once they find a property, businesses can quickly conduct in-depth analysis around that location.
Website visitors can also search demographics for every community in the USA, while economic development organizations around the nation have listed themselves on ZoomProspector.com with dedicated Community Connection Pages providing contact information and additional community details.
View the complete list of the most innovative cities in the country, which includes San Jose, CA, Austin, TX, and Raleigh, NC on the ZoomProspector.com blog.
About GIS Planning, Inc.
GIS Planning is the parent company of ZoomProspector.com, the largest nationwide website for corporate real estate professionals and site location experts seeking the right location for their business. As the inventor of online GIS implementations over 12 years ago, GIS Planning Inc. today has over 200 Economic Development Organization GIS implementations. With the majority of the 100 largest cities in the USA and covering over 11,500 cities as clients, its ZoomProspector Enterprise technology is the industry standard in economic development.
GIS Planning is also an exclusive partner of the International Economic Development Council, and has been on the Inc. 5000 list of the fastest growing private companies in the US for the past three years. In addition, GIS Planning has been covered in over 100 leading news publications, including The Wall Street Journal, BusinessWeek, Forbes, Fortune, Small Business The New York Times, and Inc magazine.
About Forbes.com Inc.
Forbes.com Inc. is a leading Internet media company providing business information services and lifestyle editorial content designed to serve the needs of business leaders, professionals, investors and affluent consumers. The Forbes.com website is focused on the theme of wealth -- how it is created, how it is managed and how it can be enjoyed. The site includes daily original reporting on the business of technology; real- time business information news updates; the complete online editions of Forbes magazine, Forbes Global, Forbes ASAP and Forbes FYI; a powerful search engine with access to all current and archived Forbes content; stock and mutual fund stock quotes, and comprehensive company profiles; an expanded online version of the Forbes.com Best of The Web guide; and a wide array of interactive tools, calculators and databases, including the annual Forbes Lists.
###