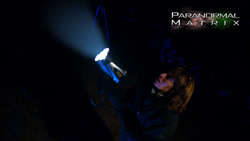 We've gone beyond questioning whether they exist. We know they do.
Phoenix, AZ (PRWEB) May 27, 2010
The new television show Paranormal Matrix will bring the ET phenomenon directly into viewers' homes June 5 with a live video webcast called "Experience: Contact."
World-renowned "contact mediator" and author Lyssa Royal Holt will bring her unique ability exclusively to this event. Holt will lead a group of participants in an attempt to contact extraterrestrial life-- and for the first time ever, let viewers around the world participate live as it happens.
"We've gone beyond questioning whether they exist," said Holt. "We know they do and I am excited to bring the reality of contact with other intelligence in our universe to a worldwide internet audience. It will be a fascinating adventure."
The video webcast will begin at 6pm MST on Saturday, June 5th and will originate from the Spectrum Video & Film studio in Phoenix. Spectrum produces the TV program Paranormal Matrix.
According to Spectrum president Ken Liljegren, "We like to think that Paranormal Matrix is helping all of us to better understand the mysteries of the world we live in. We're really proud to showcase Lyssa Royal Holt and her unique gifts in our first webcast. Our goal is to expand awareness. And there's nobody better than Lyssa."
"Experience Contact" can be viewed at no cost as a promotional special for this first in a series of live video webcasts.
Holt travels the world leading groups in contact meditation and research, and has written four books based on information received from extraterrestrial sources. A recent contact session in the Arizona desert brought reports of alien spacecraft, beings of light and a mantis-like creature. View a video clip at: http://paranormalmatrix.tv/pmtv/deploy/pmshow.html?currVideo=5&currCateg=2.
Paranormal Matrix is a magazine-style show that reports in-depth on multiple mind-bending issues. Recent reports include a trip to Iceland where remote and top-secret caves lead to a vast network of underground tunnels, a young couple that believes she got pregnant by angels, and an all-new mysterious case of cattle mutilation.
Visit http://www.paranormalmatrix.tv to receive hi-res images or video, and further details on the live video webcast.
# # #