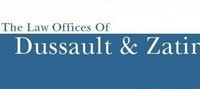 New Bedford, MA (PRWEB) May 28, 2010
The law firm of Dussault and Zatir settled an automobile accident case for the amount of $37,500.00.
The client was operating his motor vehicle in Brockton, Massachusetts, when another vehicle exited a parking lot in front of him; the client struck the other motor vehicle on the driver's side front fender. The impact caused in excess of $5000.00 in property damages. The client sustained soft-tissue injuries to his back and neck; he sought a consistent course of medical treatment to include chiropractic care and was ultimately referred to pain management where he received a series of injections. The client was out-of-work for a three month period while he was recovering from his injuries.
Dussault and Zatir ultimately filed a lawsuit on behalf of the client, however the case settled out of court for $37,500.00 at a mediation, prior to going to trial.
The law office of Dussault and Zatir is based in Southeastern Massachusetts and Rhode Island. Dussault and Zatir law firm specialize in personal injury cases in MA and RI.
# # #