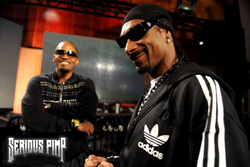 Snoop Dogg knows what the people want and shares our vision to promote events that combine the Hip Hop culture and the MMA movement
Irvine, CA (PRWEB) May 27, 2010
Snoop Dogg is scheduled to officially sign on as President of Serious Pimp this Saturday, May 29, 2010. The signing will take place at the famed Venus Pool Club at Caesar's Palace in Las Vegas, NV. Serious Pimp's Chairman of the Board the Bishop Don Juan will be there. With Snoop Dogg in the key position of President, the company is poised to enter its next phase of growth. Snoop Dogg will have a special live performance poolside that afternoon.
"This brings the best of both worlds to Serious Pimp. Snoop Dogg knows what the people want and shares our vision to promote events that combine the Hip Hop culture and the MMA movement," said Serious Pimp Founder and CEO Damian Kutzner. "Together we will usher in the next era for the Serious Pimp brand and satisfy the demand from the Hip Hop community and extreme fighting lifestyle world."
Leveraging the obvious synergy between the Hip Hop community and extreme sports, which includes MMA fighting, the company has plans for mega-events that will bring these two groups together. Future plans also include music collaborations featuring artists such as Snoop Dogg, Tha Dogg Pound, Too-Short, Warren G, and more.
After the signing, Snoop Dogg and his team will attend the MMA fight pitting Rashad Evans against Quinton "Rampage" Jackson.
"Serious Pimp got its start sponsoring MMA fighters in their bouts," said Kutzner. "Ironically, 'Rampage' was one of the first fighters we got behind. Snoop Dogg's attendance at this fight shows the company's connection to the past and its vision for the future."
This event highlights Snoop Dogg's commitment to bring Hip Hop style to the extreme sports sponsored by Serious Pimp. Later that night, Snoop Dogg will be performing live at the LAX Nightclub at the Luxor.
Serious Pimp's line includes sunglasses and clothing that blend the hip-hop style of Snoop Dogg and Tha Dog Pound with MMA attitude. Serious Pimp recently partnered with several large retail stores across the United States and the UK, including Hot Topic and No Fear.
About Serious Pimp
Serious Pimp designs sunglasses and clothing that blend Hip Hop style with MMA attitude. Since its inception in 1999, Serious Pimp has been a supporter of extreme sports including mixed martial arts. Over the years the company sponsored a long list of fighters. Created by serial entrepreneur and business mogul, Damian Kutzner, Serious Pimp sunglasses and clothing is worn by entertainers and MMA fighters such as The Bishop Don Juan, Snoop Dogg, Tha Dogg Pound, Kimo Leopoldo and Jake Shields. For more information visit http://www.SeriousPimp.com.
# # #