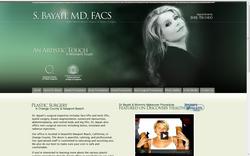 I thought maybe it was a person with chest pains, something like that. I was not expecting what I found back there.
Newport Beach, CA (Vocus) May 28, 2010
Dr. Semira Bayati was onboard United Airlines flight 935 when it took off from Heathrow Airport at 10:05 Tuesday morning. The plane hit severe turbulence over Greenland, ultimately causing at least six injuries, including a flight attendant who suffered an open fracture in her lower left leg. Dr. Bayati, who was sitting near the front of the plane, says an announcement over the intercom system asked if there was a doctor onboard. "I thought maybe it was a person with chest pains, something like that. I was not expecting what I found back there."
What she found was a 50-year-old flight attendant who had suffered a massive open fracture of both bones in the lower-third part of her left leg, making the lower leg completely unstable. "She was losing a lot of blood, and she was in a lot of pain. There was no medication (narcotics) on board, so I had to improvise with what we had. I managed to re-set the leg and reduce the fracture. Since there were no splints available, I used a crutch that one of the other passengers gave us to provide a makeshift splint, and bound it to her leg with a seatbelt used in the flight attendants' safety demonstrations."
Dr. Bayati says, with help from others on the plane, they managed to move the woman to a more comfortable position in first class, where Dr. Bayati sat with her until the plane landed. Dr. Bayati had to start an IV line and perform frequent neurovascular checks to assure the viability of the left foot. After speaking with a representative from Federal Aviation Administration and a physician in Pittsburgh Trauma Center, a joint decision was made as Dr. Bayati urged the plane to land at the closest airport possible, Montreal. "With an open fracture, you have to get the patient to surgery within two hours to reduce the risk of infection and the possibility of a limb threatening complication called compartment syndrome."
The plane ultimately landed in Montreal and the injured flight attendant was taken to a local hospital. Of the 196 passengers onboard, at least six were injured. Dr. Bayati says, while she helped the flight attendant, a medical oncologist who was also on the flight helped others who sustained injuries. Dr. Bayati says although the event was unexpected, she was glad she could assist. "I'm really happy I was there to help her. She's a very nice lady who had a very serious injury. Everyone, the crew of United and the passengers, were very helpful in trying to get her comfortable."
About Semira Bayati, MD
Dr. Semira Bayati is a board-certified plastic surgeon and a diplomat of the American Board of Plastic Surgery. She is also a member of the American Society of Plastic and Reconstructive Surgeons, the American Society for Surgery of the Hand and Upper Extremity and a Fellow of the American College of Surgeons. Dr. Bayati is known for her skills in the field of Cosmetic Surgery. Her main focus includes facial rejuvenation, breast enhancement, body contouring and the Mommy Makeover in Orange County.
Dr. Bayati can be reached at her practice located at 20311 SW Birch Street, Suite 200, Newport Beach, CA, 92660 – (949) 756-0400, or via http://www.drbayati.com.
# # #