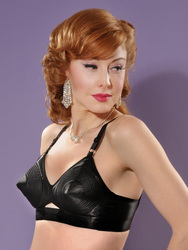 ...years before Mr Gaultier relaunched his version, one UK designer has been spearheading the bullet bra craze
(PRWeb UK) May 28, 2010
First there was Victoria Beckham, then Claudia Schiffer and most recently Gwytheth Paltrow; now everyone's favourite fun-sized popstar joins the long list of celebrities who've embraced the bullet bra trend. Kylie Minogue was in LA recently, filming the video for her forthcoming single 'All The Lovers', and was kitted out head-to-toe in Jean Paul Gaultier, including a fabulous black cone bra. These perilously pointed circle-stitched confections - seldom seen in popular culture since Madonna made them famous back in the early 1990s - are definitely back in the public eye, though luckily a slightly more gentle redesign means that no safety goggles are needed for the latest incarnations. And years before Mr Gaultier relaunched his version, one UK designer has been spearheading (enough of the sharp puns now – Ed) the bullet bra craze.
What Katie Did have been almost single-handedly reviving vintage-style underwear, shapewear and stockings for over ten years now, but it all began with a bullet bra. A deep-seated love (and vast collection) of retro lingerie led head designer Katie Halford into re-imagining the pointed bras of the 1950s and 60s, slightly redesigning and updating the classic design to fit a range of modern cup sizes; with the first What Katie Did Maitresse Bullet Bra launched on an unsuspecting public in 2002. A padded version followed not long after, and it's this model that's captured the hearts of fashion magazines throughout the world. It's starred in the pages of Vogue, Elle and Harpers Bazaar, on such esteemed celebs as the aforementioned Mesdames Beckham, Schiffer and Paltrow, the latter shot by none other than Testino himself! It's high praise indeed for Katie Halford, whose designs were previously the sole domain of the vintage maven.
So if any fashionistas out there are searching for an affordable alternative to Kylie's couture lingerie, look no further than What Katie Did. A full range of bullet bras, both padded an unpadded, and in a variety of colours and fabrics, can be found in their Portobello Road boutique, and online at whatkatiedid.com.
###