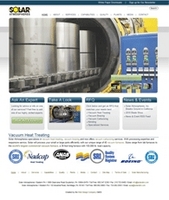 ...greater access to information about our capabilities and services for companies needing heat treating...
Souderton, PA (PRWEB) May 27, 2010
Over the past year, Solar Atmospheres has developed a brand new website focused on reinforcing our leadership position in the vacuum heat treating industry and further demonstrating our unique capabilities and services in vacuum heat treating, vacuum brazing, vacuum carburizing, ion nitriding, vacuum gas nitriding, annealing, sintering and many other areas.
With the changes in the current economy, technology and the company expansion, Solar was proactive in improving the current website, adding many new features to assist our existing and new customers and providing significant information about how we can address their heat treating needs.
Our goals for the website centered around three areas: 1) to offer greater access to information about our capabilities and services for companies needing heat treating. 2) to facilitate greater interactivity with our existing and new customers in order to further improve our level of service and 3) to provide greater insight into the performance and quality standards we adhere to and believe in.
Our heat treating capabilities and service pages highlight the wide range of expertise we can offer companies and the customized approach Solar Atmospheres takes for every project. We take pride in finding solutions for our customers that not only fit their needs, but surpass their expectations. You'll see on the Testimonials of our new site how companies think of us and how we have helped them succeed.
Among the new features, the new website will offer a live chat capability to allow a person to communicate quickly with any of our customer service or technical support personnel. This enables Solar staff to get to know you better and answer any questions that you have. This feature makes Solar Atmospheres one of the only vacuum heat treating companies with this capability.
Another feature is our new media section where technical videos, white papers, industry articles and news are available for viewing or downloading. Our staff has been published in many magazines, newspapers and associated journals and continue to prove Solar is one of the most experienced and innovative heat treating companies in the industry.
For our quality and performance standards, please visit our Quality section where you can peruse the quality programs, certifications and policies that help make Solar Atmospheres a leader in the heat treating industry.
Solar Atmospheres was founded in 1983 by our CEO, William R. Jones, and has decades of experience in the vacuum heat treating industry. We are constantly striving to develop new services and processes and innovate technically to help our customers. Solar has a metallurgical testing laboratory, a fulltime corporate metallurgist with 30 years of experience and a comprehensive R & D engineering department to coordinate with our heat treating capabilities. We look forward to working with you.
To contact us for more information, please call Tim Williams at 215-721-1502 x 548 or email Tim at timw(at)solaratm(dot)com.
Solar Atmospheres
1969 Clearview Road
Souderton, PA 18964
phone: 215-721-1502
Fax: 215-723-6460
###