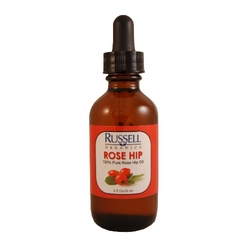 Organic Rose Hip Oil without any additives.
Wallingford, CT (PRWEB) May 28, 2010
Russell Organics, a certified cruelty-free, certified vegan and toxin free skin care line, today launched a 2-ounce jar of 100% Certified Organic Rose Hip Oil. Known for its intense restorative benefits, Rose Hip Oil is gaining buzz in the beauty industry for its high levels of Essential Fatty Acids and its richness in Vitamin A (Retinoic Acid). Russell Organics is offering this highly sought after substance in its purest form, with no additives, fillers, fragrance, colorants, or toxins – just 100% Certified Organic Rose Hip Oil.
Rose Hip Oil is extracted from the seeds of the red, berry-like fruits of a wild rose bush that grows abundantly in the Andes Mountains of Chile. Rose Hip Oil has a high content of unsaturated essential fatty acids, namely oleic (15-20%), linoleic (44-50%) and linolenic (30-35%). These inherent ingredients provide regenerative and restorative benefits to the face and body with the nutrients necessary for a healthy and vibrant complexion. Further benefit is derived from the high content of Vitamin A found in Rose Hip Oil. This creates a highly effective and restorative benefit for excess sun exposure, dry and aging skin, and even in use on scar tissue.
To use on the skin, Rose Hip Oil is best used at night as a night time serum, to allow the Rose Hip Oil the time to deeply penetrate and nourish the skin. A drop or two is all that is needed. Start with a few drops and gently apply to the face and neck, allowing time for the oil to absorb. After a few minutes, if more is needed, apply a drop at a time in circular motions. Remove any excess with a tissue. If used during the day, be certain to follow with a high SPF sunscreen and reduce sun exposure.
Russell Organics Rose Hip Oil retails for $24.00, and is available for purchase online or at select retailers globally. Because only a few drops are needed per use, the oil is an economical choice. To learn more about this product and the overall brand, please visit:http://www.russellorganics.com
About Russell Organics
Russell Organics a leading prestige, natural beauty products company, formulates outstanding products that are highly prized for their effective, yet gentle results. Searching globally for the absolute finest raw ingredients, the Company strives to offer the highest quality, and purest, toxin free products. Certified Cruelty Free, Certified Vegan, and Certified Carbon Free.
###