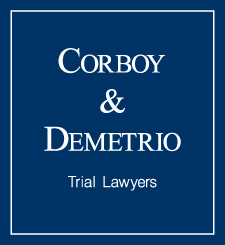 40 Illinois Attorneys Under Forty to Watch
Chicago, IL (Vocus) May 28, 2010
William T. Gibbs, a personal injury attorney at the law firm of Corboy & Demetrio, has been elected to serve on the Chicago Police Memorial Foundation Advisory Board. The Foundation, a not-for-profit organization, is dedicated to honoring the lives and memories of police officers. Its mission is to provide support and assistance to the families of Chicago Police Officers who have been killed or injured in the line of duty.
"I am highly honored to have been elected to serve on the Advisory Board of the Chicago Police Memorial Foundation," said Gibbs. "Under the guidance of Executive Director, Philip Cline, the Foundation has done exceptional work on behalf of police officers' families. I look forward to serving on the Board and hope my contributions will help further the goals and mission of this outstanding organization."
At Corboy & Demetrio, Gibbs concentrates his practice on cases involving aviation negligence, automobile collisions, construction negligence, medical malpractice, premises liability, product liability, and railroad negligence. He has obtained several record-setting and multi-million dollar verdicts and settlements on behalf of his clients. Recently, with Corboy & Demetrio partners, Tom Demetrio and Dan Kotin, he helped obtain a $29.6 million verdict on behalf of a woman who was seriously injured in the derailment of a Metra train. The verdict is the largest in Illinois for an individual injured in a mass transit crash. In a Federal District Court case, he obtained a $6.6 million verdict for a family injured in an automobile collision. It was the largest verdict ever in that Court.
He is a member of numerous legal organizations including the American Association for Justice, Illinois Trial Lawyers Association, the Chicago Bar Association and the Notre Dame Law Association. Gibbs recently authored an article, "A Quick Guide to the Illinois Dead Man's Act," which was published in the Illinois Bar Journal, a publication of the Illinois State Bar Association. He was named one of the 2009 "40 Illinois Attorneys Under Forty to Watch" by the Law Bulletin Publishing Company and in 2009 and 2010, was designated an Illinois Super Lawyer Rising Star.
Active in many community organizations, Gibbs is a member of "St. Clement Dads," a group that volunteers throughout the community and provides activities for parents and their children. Through the St. Clement Legal Aid Clinic, Our Lady of Mercy Legal Clinic and Mercy Home for Boys and Girls, he provides pro bono legal assistance to individuals who are unable to afford private counsel.
Bill received his law degree from IIT/Chicago-Kent College of Law, his M.A. from the University of Portland, and his B.A. from the University of Notre Dame. He was a high school computer science teacher and varsity football, basketball, and baseball coach prior to his legal career.
To consult with Attorney Gibbs or any other lawyers at our Chicago personal injury law firm, call 312.346.3191. We are available 24 hours a day, 7 days a week.
Keep up to date on the Corboy and Demetrio Twitter page. Further firm information can be found on our Corboy & Demetrio Wikipedia page.
About Corboy & Demetrio
Corboy & Demetrio is one of the nation's premier law firms. It represents individuals and their families in serious personal injury and wrongful death cases arising out of airplane and railroad disasters, failed products, medical malpractice and a host of other catastrophic events. Corboy and Demetrio is renowned for its achievements in the courtroom and for its contributions to the community. The rights and concerns of its clients are at the core of Corboy & Demetrio's practice. That commitment, dedication, compassion and relentless drive has resulted in exceptional service and exceptional results. The firm has acquired more than $3 billion in settlements and verdicts, of which almost 600 were in excess of $1 million.
###