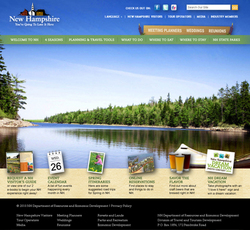 The VisitNH.gov website is the place to which all of our marketing and promotion points. Containing great information on lodging, dining and activities throughout New Hampshire, it is the definitive source for travel to and within the state
Manchester, NH (PRWEB) May 28, 2010
SilverTech, Inc., a national digital marketing agency located in New England, today announced the launch of a newly redesigned Travel and Tourism website for the State of New Hampshire (http://www.visitnh.gov). With over one million anticipated online visitors annually, the website plays a very significant role in the state's tourism efforts. Tourism is one of the biggest economic drivers of New Hampshire and despite a tight budget - the New Hampshire brand continues to thrive.
Used as the primary resource for all tourism information, research and planning tools for travel to the Granite state, the website includes scenic photography, travel properties search tool, an online travel reservation system, New Hampshire travel tips and popular itineraries. The website was architected to serve as an 'online destination' that compelled visitors to begin their vacation experience before ever stepping foot in the state. The website is also used by current state residents looking for upcoming New Hampshire events, parks and beach details or other recreational information.
"The VisitNH.gov website is the place to which all of our marketing and promotion points. Containing great information on lodging, dining and activities throughout New Hampshire, it is the definitive source for travel to and within the state," said Alice DeSouza, Director of the NH Division of Travel & Tourism Development. She added, " SilverTech has done a great job with the redesign and launch. The website is even more user-friendly, looks amazing, and adds some new tools for our visitors."
The new http://www.visitnh.gov website design replaces a previous version that SilverTech created over four years ago and that has earned the state and the agency many national awards and accolades. The new design was established to address shifting technology and browsing trends including changes in screen resolution, use of video and social media, mobile and smart device compatibility, sms messaging and more.
About SilverTech Inc.
SilverTech, Inc. is a national digital marketing agency based in New England that expertly solves online marketing, technology, operations, commerce, and communication challenges for businesses by creating value-driven web, digital and data-powered solutions. Services such as strategic consultation, site architecture, website design & development, e-commerce, multimedia graphics & animation, search engine optimization, online marketing, performance analysis, web application development and content management solutions are designed or customized to fit exact business requirements.
SilverTech clients include Life is Good®, American Water, Dr. Hauschka Skin Care, Le Gourmet Chef, Polartec®, Rita's Ice, Pizza Fusion, Robert Rothschild Farm, among many others. For more information go to http://www.silvertech.com or contact SilverTech at info@silvertech.com.
SilverTech Media Inquiries: Contact Kerri O'Hara Marketing Coordinator, SilverTech, Inc. kerri(dot)ohara(at)silvertech(dot)com 603-669-6600 x 28
###