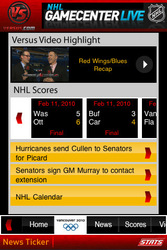 Versus Mobile is the latest in hockey news, scores, and blogs from the nation's fastest-growing sports network
Wayne, PA (PRWEB) May 28, 2010
Advanced Mobile Solutions, based in Wayne, Pennsylvania, is proud to announce the release of a cutting-edge mobile application designed to bring smart phone users the latest hockey information. The Versus NHL mobile application is an example of a successful mobile marketing campaign. The application can be accessed directly from your smart phone so that you can stay connected to the hockey world from anywhere across the globe. With the Stanley Cup frenzy in full swing, this is the perfect time to be on top of the latest NHL news.
This dynamic mobile solution features the NHL content presented by Versus (the sports and outdoor life entertainment division of Comcast Corporation). The feature set includes live stats, videos, images and a streaming update ticker. The variety of content comes from multiple data feeds which are simultaneously received. Customer interaction includes polls and ratings. Download activity has been extremely robust since the apps' introduction. The activity as of May 15 is as follows:

iPhone 67,797 downloads (since 2/2/10)
Android 24,211 downloads (since 2/25/10)
BlackBerry 5,888 downloads (since 3/26/10)
Total 97,896 downloads
The Versus NHL mobile application can be downloaded through several different ways: For BlackBerry, it can be downloaded through App World; for iPhone or iTouch it can be downloaded through iTunes, and for Android it can be found on the Android Market.
The Mobile Applications Development Group at Advanced Mobile Solutions designs and develops custom mobile applications for businesses and brands creating compelling custom enterprise solutions and platforms. We leverage our technology allowing customers to cost effectively and rapidly go to market. Applications robustly function on a full range of mobile operating systems including, iPhone, BlackBerry, Palm, Android and Windows Mobile. Our solutions are carrier agnostic resulting in the greatest audience reach. We also have the capabilities to develop for the iPad.
Founded in 2006, Advanced Mobile Solutions (AMS) has become a leader in providing turn-key mobile web search, mobile marketing and custom smart phone applications to various vertical markets. The Company's core competency is "mobilizing" inventory data and making it searchable from any mobile device, while generating high quality leads for our clients. For over twenty years, the principals of Advanced Mobile Solutions have been in the forefront of interactive telephone services. AMS has assembled a team with an unparalleled track record of proactive service and consultation after the sale to ensure optimal product implementation and strategy execution.
###