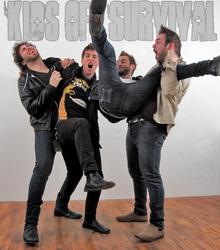 Kids of Survival (KOS) is the quintessential ShareTheMic artist, connecting deeply to its community and giving back generously to the people it cares about.
New York, NY (PRWEB) May 28, 2010
ShareTheMic artist Kids of Survival, a four-piece pop/rock band from Queens, will be kicking off a series of summer shows when the band opens for Bon Jovi and pop/rockers OneRepublic this Saturday at the New Meadowlands Stadium. ShareTheMic (http://www.ShareTheMic.com) is set to be the global online platform that connects emerging musical artists with non-profit organizations to create cross promotional campaigns – including original recordings and videos – to help raise awareness.
Kids of Survival (KOS) is the quintessential ShareTheMic (STM) artist, connecting deeply to its community and giving back generously to the people it cares about. The band got its inspiration from a youth group, of the same name and formed in the 80's by Tim Rollins, which took underprivileged kids off the streets and turned them on to art. Today, many of these artists have their works hanging in museums around the world. Kids of Survival's vision, much like Tim's, was to share their own art – music – with the world, too. So, driven by friendship and the need to collaborate, the band, founded by drummer Dylan Lipari and bassist and lead singer Gary Gordon, was born in 2005. The group has successfully toured nationally for the last six years and is currently working on their new EP, which is expected to be released later this year.
"We are proud to have Kids of Survival signed to ShareTheMic," STM Founder Kevin Patrick said in a statement, "these are the types of artists that set by example, becoming successful not only by their incredible talent and drive, but by shaping the way the new music industry cross culturally connects all people who care and make a difference. ShareTheMic will continue to support artists who are recognized for this and we look forward to the Global release of our Artist/NPO management program later this summer."
Kids of Survival drummer and co-founder, Dylan Lipari, responded saying, "it is an honor to be on ShareTheMic. To be able to pair up artists /bands, who have such influence over their fans, with a non-profit organization to help spread awareness for the cause is amazing."
The ShareTheMic platform connects two passionate communities - musical artists and non-profits - and empowers them to make a real difference by:

generating broader awareness for the non-profits and the artists
helping non-profits inspire its donors, volunteers and supporters in new and creative ways though music and video
enabling artists to connect with a cause and give back in a way that's meaningful and personal to them
developing innovative, cross-media and cross-marketing campaigns
enhancing fundraising opportunities
Kids of Survival is one of more than 80 artists that have submitted detailed profiles, including testimonies of interest in specific charities or causes, to be considered for inclusion in the ShareTheMic program. Fifty have been approved, and twenty-three have been paired with one of ShareTheMic's 40 plus non-profits, which include The Children's Neuroblastoma Cancer Foundation, Autism Speaks and Cancer Research Institute.
So, if you're ready to rock, here's how you can get involved:

Visit ShareTheMic.com to enjoy the amazing content our artists have created for the charities they support, or
Suggest to a friend that their band apply for membership with ShareTheMic so they can channel their passion, or
Tell the executive director of your favorite non-profit to sign up for ShareTheMic so they can get connected with artists that will help support its cause.
# # #