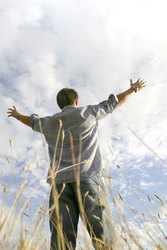 I guess it's just a matter of opportunity. And that's what we want to continue to be for our men, an opportunity to live free of drugs and alcohol, an opportunity to pursue their dreams.
Dallas, Texas (PRWEB) May 27, 2010
Surrounded by friends and loving family members, Life Force Dallas celebrates its ten year anniversary this month! "We look forward to ten more years" sings Dallas native Don Fielding, owner and director of North Texas' only comprehensive, full-service recovery residence.
In the decade marking Life Force's development, there have been many additions to help aid in the recovery of its clients. Unlike other local services, Life Force Dallas provides an extensive level of care for each resident; to include group therapy three times a week, individual counseling, and access to a staff of professionals and peers, all of whom have recovered from a "seemingly hopeless state of mind and body."
Don Fielding and Jeff Ault are both LPC's with nearly 30 years of combined experience and sobriety. Together they make up the clinical counseling team at Life Force Dallas. Jeff Ault, leader of the Tuesday and Thursday night group therapy sessions, is also an LCDC and LMFT-I. "We seek to challenge our clients" says Jeff, "not only in terms of taking responsibility for their recovery, but in assuming accountability for the quality of their lives."
At ten years old, Life Force Dallas has realized that this is easier said than done. "That's why we incorporate so many facets and fail-safes," Don remarks. "We know the first year of recovery is a difficult one. Difficult for the family, and difficult for the client. Our capabilities as a professional team allow us to treat a broad range of issues. We believe in cultivating the individual's sense of independence, helping him acquire employment, and arriving at a juncture that exemplifies a healthy and lasting sober lifestyle."
Over the past ten years, Life Force has celebrated the lives of more than a hundred successful alumni. "The families," Don says " are the real celebrants. I like to call them heroes."
Jeff and Don both remark that it is a family member that often times finds the courage to reach out and ask for help for their loved one. " We don't expect a loved one to understand addiction. That's our job. That's what we do - we treat addictions."
Life Force Dallas seems to take that job seriously too.
Every single member of the Life Force staff is an alumni of the program. The majority of volunteers are also former residents who return, some of them daily, to contribute to the continued well-being of the community. This might involve sponsorship, offering rides, or the simple sharing of experience, strength and hope.
Mike Jones, Director of Operations, believes in the Life Force approach. "I see men come into our homes broken and lost, looking for a better way. At Life Force we welcome this sense of brokenness as an opportunity for growth. Read page 58 of the Alcoholics Anonymous text, 'Rarely have we seen a person fail who has thoroughly followed our path.' That's what Life Force does, we help our clients to access that path – and then to follow it."
Unlike the brunt of sober homes across North Texas, Life Force is situated in a tidy, well-maintained neighborhood with access to all the main arteries of the North Dallas transportation systems. "We think it's important to offer affordable treatment services in an environment that is safe and wholesome," says Don Fielding. "Our clients deserve nothing less."
For Bruce Patton the feelings are much the same. Celebrating five years of sobriety this summer, Mr. Patton is not only the in-house attorney, but Life Force's Senior House Manager. "I came to Life Force with a desire to live free of drugs and alcohol," Bruce says as he reflects on the opportunities Life Force has given him to re-build his law practice. " And today I help others to fulfill that same desire. That's how our program works. That's how we've prospered for ten years."
The sense of community is certainly a strong one at Life Force Dallas. According to Bill Porter, it's the continuum of care that helps to foster that identity. Mr. Porter leads the Management team at one of Life Force's transitional homes for graduates. "Providing a continued level of support is a key component to success in recovery for our men. We promote long-term sobriety, and we offer long-term solutions to help accommodate that philosophy."
While three months is the typical stay at Life Force, many residents seek the benefit of a greater investment. "It's endearing when one of our clients discover the value of their experience and assign purpose and meaning to it." Don pauses for a moment to reminisce about a client of his that went on to graduate med school and become a doctor. "There is not a man who comes through our program who does not possess dreams and aspirations." Then a long silence. "I guess it's just a matter of opportunity. And that's what we want to continue to be for our men, an opportunity to live free of drugs and alcohol, an opportunity to pursue their dreams."
Happy Birthday Life Force - and many more!
Life Force Dallas provides transitional living opportunities for men. Comprised of one half-way, one three-quarter and one sober living residence, Life Force was established to provide a supportive and structured living environment to help meet the needs of chemically dependent adults. The Life Force program utilizes the local recovering community to help clients develop relationships which will support their new sober life style. As the clients develop a sense of community with their sponsors and peers, they become increasingly able to live comfortably without the use of mood altering chemicals. Life Force Dallas is recognized as the most comprehensive recovery residence program in North Texas, and works diligently to maintain relationships with all area treatment centers in order to help the Dallas/Ft. Worth community remain connected to viable, long-term solutions for men transitioning on their path to meaningful sobriety.
###