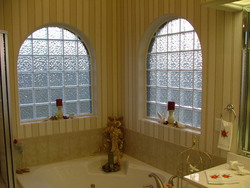 Our sales to the manufactured housing segment have been very strong every month of this year
Pensacola, FL (Vocus) May 28, 2010
In an encouraging sign of economic rebound, Hy-Lite/U S Block Windows has seen sales during the second quarter of 2010 rise more than 30 percent compared to the same timeframe in 2009.
"Sales started rising steadily in early April and have continued on an upward pattern since then," says Roger Murphy, president of Hy-Lite/U S Block Windows. "We are seeing some of our strongest sales of acrylic block and decorative glass windows in the manufactured housing market and in the specific geographic areas of North Carolina, South Carolina, Texas and Virginia.
"Our sales for the first quarter were equal year-to-date in 2010 with our 2009 numbers, which we saw as a good sign. However, in the past few months these numbers have skyrocketed. We're achieving consistent and growing sales that exceed 30 percent when compared to last year at the same timeframe."
Growth Factors
According to Murphy, sales of both the company's privacy and decorative windows are equally gaining strength in 2010. He attributes part of this growth to expanded nationwide sales representation that has earned his company more presence in a wider variety of distribution channels. Additionally, be believes his company's purchase of Hy-Lite Products, Inc. a year ago has also earned his company more visibility and product awareness.
"The Hy-Lite acquisition allowed us to increase our product offerings, expand our geographic markets and increase our customer base," says Murphy. "It provided us with an entrance into new market channels, such as movie and television set design, interior wall applications and component product sales. We've also been able to successfully grow our international sales by exporting to Australia, Japan and Canada."
Murphy believes that government incentives to homeowners and homebuyers have positively impacted his company's business in 2010. "Our sales to the manufactured housing segment have been very strong every month of this year," says Murphy. "I believe this was likely spurred by the first time home buyers tax credit that has motivated many first time homeowners to purchase manufactured homes.
"In addition, we're seeing higher sales of our energy efficient windows compared to 2009. This is due to energy code requirements for new construction in some states and our ability to provide energy efficient acrylic block windows for homes."
Made in the USA
Another factor in the business growth at Hy-Lite/U S Block Windows comes from a decision made in 2009 to move all Hy-Lite vinyl extrusion purchases and acrylic block manufacturing out of China and back into the United States. The company now proudly promotes its acrylic block products as "Made in the USA" and has received strong support from its customers for making the move.
"When we acquired Hy-Lite we learned much of the company's acrylic block and vinyl extrusion manufacturing was being done in China," says Murphy, "We immediately launched plans to bring those processes and jobs back to America.
"Now we successfully purchase all our vinyl extrusions from extruders in the United States. We manufacture Hy-Lite acrylic blocks at our own company facility in Florida. With our recent growth in product demand, it means more jobs for American workers rather than jobs being sent overseas."
Hy-Lite/U S Block Windows offers acrylic block window options for all areas of the home in fixed picture, custom radius, casement and awning styles. The company also manufactures acrylic block walls, door inserts and accent panels.
Headquartered in Pensacola, Fla., U S Block Windows offers the widest selection of prefabricated privacy products in the industry. Product lines are offered under both the U S Block Windows and Hy-Lite Products brand names and include a variety of operable and fixed acrylic block and decorative glass windows. Additional product offerings include glass block windows along with an assortment of acrylic block shutters, accent panels, radius walls, partition walls and door inserts. For more information visit http://www.hy-lite.com and http://www.usblockwindows.com or call 888-256-2599.
For Release: http://hy-lite.mediaroom.com/index.php?s=press_releases&item=92
IMAGES: For access to images, contact Kathy Ziprik at kziprik(at)aol(dot)com or visit the Media Room at http://www.hy-lite.com.
# # #