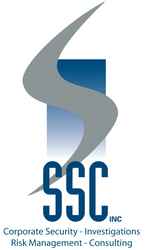 "2009 was a tremendous year for growth in all areas of our business," said David Linsky, CEO of SSC, Inc.
Shelton, CT (PRWEB) May 28, 2010
Security Services of Connecticut, Inc. (SSC, Inc.) has announced several new additions to their team.
Mr. Michael W. Wanik, CPP, CBCP joins the Executive Management team as its Vice President of Consulting and Investigations. Mike Wanik will manage the company's Corporate Intelligence and Investigation division which includes Pre-Employment/ Background Screening, Litigation Support, Insurance Fraud, Risk Management and Computer Security. Mike is board certified in both security management and business continuity planning. Mike has a robust background in providing risk management techniques to protect people, process, technology, information and environments in sensitive operation around the world.
John T. Kozak joins SSC's Executive Management team as Vice President of Business Development. John brings more than 15 years of experience in the security industry to this position. In this role, John is responsible for all business development activities of the firm, to include strategic planning and direction relating to the sales team's business development efforts. Prior to this position, John worked in a business development capacity for a national security provider.
Gene Kisken joins SSC as a Business Development Manager. Gene has almost 30 years of sales experience and more specifically over 5 years of experience selling security services with a national firm. Gene is responsible for selling security services throughout Southern CT, Westchester County, NY and Rhode Island. Gene's clientele within the security industry is comprised of commercial real estate, healthcare, corporate complexes, educational facilities, malls and industrial facilities.
About SSC, Inc.
SSC, Inc. sets the standard for security companies by providing high quality service, reliability and maximum value to every client. As a leader in security in the tri-state area, SSC provides a full range of security solutions using a unique multi-disciplinary approach. SSC's services include uniformed security services, professional investigations, computer forensics, litigation support, risk management and security consulting. Established in 1975 as Security Services of Connecticut, Inc., the company is privately owned. To learn more about SSC, navigate to http://www.securessc.com and http://www.sscintel.com.
###