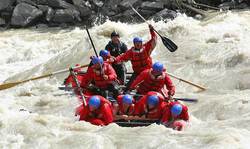 The Alpine Team spent time 'researching' the catraft with many, many happy 'test cases'.
(PRWEB) May 29, 2010
With the arrival of the 2010 whitewater rafting season, Alpine Rafting Company has added catrafting, a brand new way to experience the thrill of BC river rafting.
The catraft is a stable 'catamaran-style' inflatable craft that consists of two pontoons that are held together with an aluminum frame and a floor that is made of mesh.
It is this unique mesh design that enables the catraft to glide over exposed rocks, which allows them to navigate through narrow channels and blast through holes and rapids that would impede and/or flip conventional rafts.
It also makes for a more incredible ride as waves and rapids saturate all sides of the craft including the floor.
It is believed that the catraft design was invented in 1969 by a man named Dick McCallum.
The first catrafts or catarafts were very large; approximately 28 ft long, 12 ft wide and were used mostly for hauling gear on expeditions.
They had 2 oar stations, a sweep oar on the back for steering and carried up to 8 people with gear for a 22-day trip in the Grand Canyon.
Since then there have been many changes to the catraft and as 'cats' became smaller and more popular they started to be used for more than just expedition craft.
You will now find them on many rivers across North America, surfing waves with kayaks and fishing on tiny streams.
The Alpine team has spent a lot of time researching and perfecting the design of the catraft to ensure that it will provide a safe and fun whitewater rafting experience.
We've discovered that the catraft is an ideal craft for the rushing rapids of the Kicking Horse River, and is a great compliment to our current fleet.
Catrafting is best suited for first-time or experienced rafters aged 16 years and up; and is a perfect outdoor activity for stags or stagettes, corporate groups and team-building exercises.
If your looking for something a little different than regular whitewater rafting then take a look at catrafting, the Kicking Horse River's newest thrill.
Try BC White Water Rafting with one of our new catrafts on the Kicking Horse Challenge or the Ultimate Whitewater package.
###