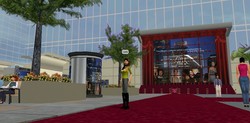 now providing new jobs and creative opportunities for Hollywood
Los Angeles, CA (Vocus) May 28, 2010
GBK (http://gbkproductions.com) - the luxury lifestyle gift lounge and special events company will honor the 2010 MTV Movie Awards Nominees and Presenters with its Annual Luxury Gift Lounge on June 4th and 5th 2010 and will debut the first ever "Virtual Celebrity Gift Lounge".
In addition to great gifts, gourmet food and live performances all in honor of the MTV Movie Awards, GBK, Samy Montechristo, and Activeworlds will host the first Virtual Celebrity Gift Lounge where select guests from around the country will be able to attend these traditionally industry-only special events from the comfort of their own home through the use of their own personal avatars! GBK will re-create one of their signature gifting environments online in its own 3D Virtual World, connected in real-time with the use of live-streaming technology, virtual instant chat and avatar based social networking software. With the help of Nathalie Basha, GBK's Red Carpet Host for the virtual experience, these avatars will get the chance to mix and mingle with some of their favorite stars, chat with celebrity attendees and performers, view the live performances and experience our luxury sponsors. Through media partner, Celebuzz, one viewer will also receive an invitation to attend the real life gift lounge at The London Hotel on June 4th or 5th.
In addition to the virtual gift lounge, GBK and Virtual Celebrity Islands will partner together throughout 2010's major award shows and special events to gift the celebrities use of these private islands for a whole year! Founded by Samy Montechristo and powered by Activeworlds, Virtual Celebrity Islands is the new home of a groundbreaking celebrity community. Each virtual celebrity island features a fully interactive 3D studio with a sound-stage for virtual live events, 300 acres of virtual land for fans and sponsors, a penthouse for the celebrity owner, and their own virtual Ferraris, limos, yachts and private helicopters. Quinton Aaron, star of The Blind Side and nominated for the MTV Movie Award as Best Breakout Star, will be the first to receive access to his virtual island and the GBK virtual event attendees will get to explore his island and take a peek into his own private world.
GBK is known for creating stylish settings with a great atmosphere and amazing luxury gifts. With this virtual lounge and a partnership with Samy Montechristo and Activeworlds, they are continuing to take things to the next level. Carla Domen, VP of GBK Productions, stated 'We like to keep ahead of the trends in our industry and offer the latest and greatest to our honored guests. When designing the event, I was certainly inspired by the MTV nominated film Avatar, and it led us to a unique gift, a way to incorporate the outside world to these exclusive events and help enhance our sponsors' return on investment.'
3-Dimensional interaction on the internet is growing at an astounding rate and it is projected that 1.6 Billion people will access the internet via Avatars. With advances in technology, accessibility, and the record-breaking popularity of the James Cameron movie "Avatar" (the highest grossing film ever, taking in over $2.7 billion), 3Dimentional interaction is "now providing new jobs and creative opportunities for Hollywood" – says Samy Montechristo - 'Get Every Star an Avatar is our motto and goal for the Hollywood industry.' "We want to give celebrities a new way to connect with their fans, promote their projects, and offer meaningful and high-valued visibility for their sponsors and brands". Virtual Celebrity Islands is powered by Activeworlds which means the recipients get high quality design and functionality with the potential for true ownership and independent operation of their 3D worlds, not something currently offered by other virtual companies. It is an unmatched offer to own a portal to the 'new internet', accessible to and operated by everyone.
About GBK
GBK, formerly GBK Productions, is a luxury lifestyle gifting and special events company, specializing in entertainment marketing integration. Formed in 2000 by Gavin Keilly, the company's Founder and CEO, GBK consists of five divisions: GBK Celebrity Gifting Lounges, GBK Events, GBK Weddings, GBK Charitable Consulting and GBK Marketing/PR. Widely known in the entertainment industry for bringing that little extra something into the Gifting Lounge environment, GBK offers its clients a full range of marketing services. For more information on Gavin B. Keilly (CEO), Carla Domen (VP) or GBK, please go to gbkproductions.com.
About Samy (S@my):
Samy Montechristo is the founder of Virtual Hollywood. His motto: 'Get every star an Avatar!'. For the past 10 years Samy has spent more time in virtual reality than in the 'real world' which makes him a real life avatar. He was prominently featured as one of the World's leading 3D internet experts at the Consumer Electronics Show. He has invented entire virtual ecosystems and created more than 1000 virtual 3D destinations for top Fortune companies. When added together these properties are the size of England. By attracting audiences from around the world, Virtual Tourism is a promising way to generate a new form of revenues for the U.S. Economy. For more information on Samy Montechristo, please go to virtualhollywood.TV
About Virtual Celebrity Islands:
Virtual Celebrity Islands is an interactive 3D city emerging on the 3D internet. Its purpose is to give a global audience a new way to get up close and personal with their favorite stars, to offer celebrities a new form of creative expression and to create new jobs for the entertainment industry. To see a demo on Virtual Celebrity Islands please visit virtualhollywood.tv/videos/vci.wmv. To be invited to the virtual gift lounge, on June 4th 2010 log onto http://www.virtualcelebrityislands.com
About Activeworlds:
Since 1995 Activeworlds has been the ultimate pioneer in virtual 3D worlds and Avatar based social networking software. Having delivered virtual real estate the size of the American and European Continents combined, Activeworlds maintains its leadership in ultra light virtual 3D world software and design. For more information on Activeworlds, please go to activeworlds.com.
# # #