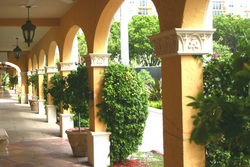 We live, work and play in Boca Raton and we love it here!
Boca Raton, FL (PRWEB) May 28, 2010
Just in the last few months, Investments Limited has leased more than a quarter of a million square feet of retail, office and warehouse space to a wide variety of businesses: restaurants, salons, spas, women's, men's and children's boutiques, yoga and ballet studios, fitness centers, tutoring academies, jewelers, art galleries, interior design and décor, physicians and other medical specialists, law firms, financial advisors, and much more. With the most stylish stores and the hottest dining scene around, doing business in Boca is definitely exciting.
This can be attributed to a number of factors, not the least of which is the area's demographics. Home to tropical Florida beaches, historic buildings, college universities, and upscale shopping centers and parks, residents and tourists alike enjoy the coziness and intimacy offered by Boca Raton's small city atmosphere and Mediterranean style architecture; here one finds palm-lined streets, fountains, buildings adorned with balconies and patios, colorful awnings and a wealth of restaurants, specialty boutiques and art galleries…perfect for strolling, shopping and the always fun pastime of people-watching. Rich in arts & culture, live entertainment and special events take place throughout the year. In short, it is a "lifestyle destination" that is attractive to tourists and residents alike. Glamour, elegance, and sophisticated tastes…Boca Raton is a feast for the eyes and a mecca for business. The majority of Boca Raton's residents are affluent, well-educated and active financially, civically and physically. They have considerable discretionary income, enjoy dining out, attending plays and concerts, travel, and are avid shoppers. Many work out regularly at a club or exercise on a treadmill or stationary bike at home, play golf and tennis, go bicycling and practice yoga. Enthusiastically involved in their communities, they join charitable organizations, work for political parties or candidates, and participate in local civic issues.
Investments Limited is one of the country's premier real estate organizations. They own a geographically diversified portfolio of commercial properties and residential communities, including the famed mixed-use development, Royal Palm Place, in Boca Raton, where world-renowned artist, Michael Israel, recently chose to locate his ultra-private studio. Investments Limited is also an "Official Partner" of the Florida Panthers and BankAtlantic Center, having joined the ranks of such noteworthy partners as ADT Security Services, AvMed Health Plans, Comcast, CompUSA, jetBlue, Lexus, metroPCS and Office Depot, to name just a few.
# # #