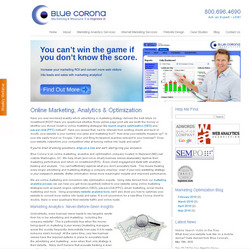 We wanted a website that more clearly communicated our value proposition to prospective clients - flooring companies, plumbers, roofing contractors, etc.
Gaithersburg, MD (PRWEB) June 1, 2010
Blue Corona, a marketing analytics and optimization company with offices in Baltimore, MD, Washington, DC and Charlotte, NC, has announced the launch of its new corporate website. The new website, http://www.bluecorona.com, includes new functionality, additional content and it more accurately reflects the company's mission which is to help B2C home service business owners measurably improve their marketing performance and ROI.
"Our current clients are almost exclusively business owners. When asked what they found most helpful about our previous website, they referenced our in-depth, free marketing and analytics case studies and our blog which frequently includes tips to help service businesses improve their inbound marketing and analytics processes. We kept this top of mind when creating the new website," said Blue Corona President and CEO, Ben Landers.
Blue Corona provides online marketing and analytics services for home services companies such as custom builders, flooring installers, HVAC companies, kitchen and bathroom remodeling companies, plumbers, roofing contractors and many more. The company has approximately 75 clients in markets throughout North America. Blue Corona's President and CEO, Ben Landers, was recently named one of the 25 CEO's you need to know in 2010 by the Gazette of Politics and Business.
###