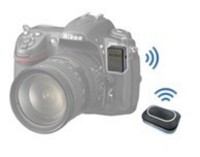 It's great that anyone who wants to experience the wonder of photography can do so, but even a consummate professional can forget where they took a specific picture, and no one wants to waste time marking where they took every photo. This device makes it
Brea, CA (PRWEB) May 28, 2010
The world of photography has changed drastically since it began, and now that anyone who has a digital camera can attempt to go professional, there is more and more cause for serious photographers to look at tools like the PhotoTrackr Plus, found online at: http://www.gisteq.com/plus
When you talk to professional photographers, or even serious amateurs, about camera companies you're basically talking about either Nikon or Canon. These are the top two digital SLR camera manufacturers out there today. The GiSTEQ company has now created a unique geotagging solution specifically for one of the top brands of cameras, the Nikon. This geotagging device is designed to make tagging photos that are taken on a Nikon DSLR easier, and much more enjoyable, for any camera lover.
Digital SLR cameras are much more affordable now than they have ever been before, and some professionals in the photography business estimate that within the next ten years a vast majority of camera owners will have their own DSLR, if they don't already. That is one reason why some believe that more GPS trackers and other gadgets are flooding the market now. But while some gadgets are simply silly, others, such as the PhotoTrackr Plus for Nikon, can actually help photographers to become better.
"It's great that anyone who wants to experience the wonder of photography can do so, but even a consummate professional can forget where they took a specific picture, and no one wants to waste time marking where they took every photo. This device makes it quick and simple for anyone who has the right DSLR cameras to be able to geotag their photos," said Eric Liu, the President of GiSTEQ Corp.
The PhotoTrackr Plus has a number of features attached to it that both professionals and amateurs will love, and one of the most important is that it can geocode pictures taken in RAW format. Many photographers opt to shoot in RAW so that they can easily fix any exposure mistakes that are made. The PhotoTrackr Plus allows you to geotag photos in both RAW and JPEG format. The GPS data is imported directly into your photo as you take it, so no extra steps are necessary, which speeds up the processing workflow, and there is no extra software needed to run the program, simply plug and play.
One truly unique aspect of the PhotoTrackr Plus is that it is capable of geotagging photos with the last known location, so that if you're unable to access a satellite signal, the device will save the information until you are in sight of a satellite. Compatible cameras include the Nikon D200, D300, D300s, D700, D2X, D2Xs, D2Hs, D3, D3X, and Fujifilm S5Pro.
For more information, visit the GiSTEQ site at: gisteq.com/plus
###