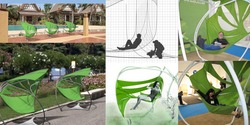 Elgin, IL (PRWEB) May 29, 2010
On May 21, 2010, Fabric Images, Inc. announced its newest business division and product launch, FI Outdoors. This latest manufacturing arm of Fabric Images, Inc. was developed through collaboration with Pratt Institute. As part of the partnership, one solution created was the Rhizome Chair. This sling chair design was showcased on May 15-17 as part of the 22nd annual International Contemporary Furniture Fair (ICFF 2010) in New York City's Jacob K. Javits Convention Center. The Rhizome chair is the first in a series of tensioned fabric solutions for outdoor use that can be utilized as temporary shelter for outdoor living.
The Rhizome chair evolved from a Fabric Images, Inc. sponsored studio at Pratt Institute called T.E.N.T. (TENSILE EPHEMERAL NOMADIC TERRAIN). Under the design and direction of Pratt institute faculty members, architects Mark Parsons and Dragana Zoric, the purpose of the T.E.N.T. studio was to develop a deployable, lightweight structure that integrates with the manufacturing practices and materials utilized by Fabric Images, Inc. to create fabric-based products. One of the design ideas developed was a transformable, organic, outdoor space. From this design a series of small-scale applications was formed, the first of which was the Rhizome Chair. Developed by undergraduate architecture students Michael Dolatowski, Isolbel Hebold, David Irwin, and Katherine Kania, the Rhizome chair is the first of several planned add-ons to complete the entire collection developed by Pratt students.
Constructed from powder-coated 2" round aluminum tubing, the Rhizome Chair is fitted with the latest in fade-resistant Sunbrella canvas that is specifically developed for outdoor applications. Standing 96" tall and 72" wide, this outdoor leisure product was developed to be placed in a variety of settings as either a permanent fixture or temporary moveable application. Its lightweight construction allows the Rhizome to be transported with relative ease and set-up with a single tool included in the product packaging. This product is designed and manufactured in the USA. For additional information, visit http://www.fabricimages.com or http://www.fioutdoor.com. Inquiries should be emailed to info(at)fabricimages(dot)com
About Fabric Images, Inc.: Since 1992 Fabric Images, Inc.® has been a premier supplier for fabricating and printing of tensioned fabric architecture for the retail, museum, architectural and exhibit design communities. FI is a family-owned and minority-operated business. They are considered by many to be a leading manufacturer of lightweight, digitally printed fabric tension structures. For more information or Images contact Leo Boczar, Director of Communications at 800/228-9223 or lboczar(at)fabricimages(dot)com.
Pratt Institute, an educational leader in art, design, and architecture, offers both undergraduate and graduate degrees in industrial design. Pratt's industrial designers seek to be innovative and impactful in creating beautiful forms and products that express their vision as reflected by the people and culture of the times. Pratt's undergraduate and graduate industrial design programs are among the highest ranked in the country according to 2010 rankings by DesignIntelligence.
# # #