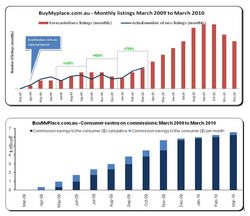 (PRWEB) May 31, 2010
BuyMyplace figures show Australians are ditching real estate agents and selling their homes themselves in record numbers.
And in many cases they're getting better prices and selling faster – within hours for some properties. It is a real estate revolution, a dramatic shift in how we sell homes.
"More and more people are selling their homes themselves, without costly agents, and saving $15,000 on average," says buyMyplace chief executive Peter Butterss (BUTTERSS).
"People are voting with the click of their mouse. We've seen a 758 per cent increase since going national this time last year. We sold 10 properties in a 10 day period in December. Buyers love negotiating directly with sellers, cutting out the middleman. Private house sales are booming."
In the first industry research of its type, the buyMyplace figures show Australians have saved in excess of $6 million by selling it themselves and avoiding commission and advertising payments to real estate agents.
"For many Aussies trying to sell their home, the internet has made agents redundant. Melbourne and Sydney are the auction capitals of the world. Many sellers know the sales process inside out. Who knows your home better than you? Now with the tools and how-tos available online, Mr and Mrs Australia can do a better job than Mr Real Estate Agent.
"Today you can search for jobs online, buy and sell shares, cars, boats, books - you name it. Home sellers are asking the question: why not sell your own home?"
Butterss says this is how many people in Europe and the US sell property - up to 40 per cent in some countries. Last September Butterss sold his own home, saving $70,000.
"The hardest part was tidying up before the open for inspections," Butterss says.
BuyMyplace research shows 52% people sell within one month, 72% sell for more than quoted by an agent, 100% end with more cash in their pockets, 80% save more than $10,000, 40% save more than $14,000 and 100% would prefer to sell it themselves again.
About buymyplace.com.au – Australia's No 1 place to buy and sell real estate privately. We help people sell professionally without an agent from as little as $249. Sellers take control, get fast results and pay no commissions nor traditional marketing fees, thereby saving thousands. Other services include valuations, how-to guides - even taking properties to auction.
# # #