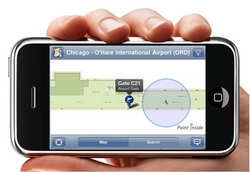 With this ground breaking release of our free application, we have forever changed the landscape for travelers...
Bellevue, WA (PRWEB) May 28, 2010
Point Inside™, Inc. (http://www.pointinside.com) today announced the release of version 2.0 of its free, industry-leading Indoor Smart Map™ application for iPhone, iPod touch and iPad. For the first time, consumers have free access to interactive, searchable maps of over 50 airports in the U.S. and Canada, all with extensive Point of Interest directory listings. These maps are in addition to the previously available maps and directories for over 500 shopping centers. Unlike paper maps or wall-mounted directories, Point Inside's Indoor Smart Maps allow users to search by free-form text and directory lists, or interact directly with the map to get more information. Once a destination is selected, it's highlighted by a pin on the map, like users have come to expect from "outdoor" mobile maps. This highlighting allows each person to "customize" the map based on his or her immediate need, whether that's quickly finding the nearest restroom, or determining what restaurants are on the way to their specific connecting gate.
Point Inside users can also see their own true positions on the indoor maps by using SmartFix™, Point Inside's proprietary indoor location method. SmartFix determines the user's location by using GPS, cell towers or WiFi. However, if these methods are inaccurate, as is often the case indoors, SmartFix prompts the user to provide her own position by selecting a nearby landmark. Knowing where you are relative to where you need to go can help you plan better and ease the anxiety of travel. And knowing what amenities are nearby or on your way can help you make better, faster decisions.
"With this ground breaking release of our free application, we have forever changed the landscape for travelers," said Kevin Foreman, CEO of Point Inside, Inc. "Whether you're a family who wants to quickly find the nearest restroom with a changing station, or a savvy business traveler who wants to be more efficient, our mobile app can help. It's extremely easy to use, and we've gone to great lengths to provide the most accurate, complete airport maps available anywhere."
Point Inside's Indoor Smart Maps do not require a wireless connection after the initial download. This feature allows travelers to use the app in "airplane mode", while at 35,000 feet, to plan layover activities, like finding the best restaurant, or to determine the best route to a connecting gate, baggage claim, or any other service. Quick keys also make it easy to instantly see locations of all restrooms, restaurants, ATMs or special promotions highlighted on the map of the airports and malls. The following airport maps will be available initially, with more being added soon:
Anchorage (ANC)
Atlanta (ATL)
Austin (AUS)
Baltimore/Wash (BWI)
Boston Logan (BOS)
Calgary (YYC)
Charlotte-Douglas (CLT)
Chicago - Midway (MDW)
Chicago - O'Hare (ORD)
Cincinnati (CVG)
Columbus (CMH)
Dallas-Fort Worth (DFW)
Denver (DEN)
Detroit Wayne (DTW)
Honolulu (HNL)
Houston - Bush (IAH)
Indianapolis (IND)
Jacksonville (JAX)
Kahului (OGG)
Kansas City (MCI)
Las Vegas (LAS)
Los Angeles (LAX)
Memphis (MEM)
Miami (MIA)
Minneapolis (MSP)
Montreal (YUL)
Nashville (BNA)
Newark Liberty (EWR)
NY - John F. Kennedy (JFK)
NY - LaGuardia (LGA)
Oakland (OAK)
Oklahoma City (OKC)
Orlando (MCO)
Philadelphia (PHL)
Phoenix Sky Harbor (PHX)
Portland (PDX)
Raleigh-Durham (RDU)
Reno (RNO)
Sacramento (SMF)
Salt Lake City (SLC)
San Antonio (SAT)
San Diego (SAN)
San Francisco (SFO)
San Jose (SJC)
Seattle-Tacoma (SEA)
St. Louis (STL)
Tampa (TPA)
Toronto (YYZ)
Vancouver (YVR)
Wash - Dulles (IAD)
Wash - Reagan National (DCA)
The Point Inside app, "Point Inside Maps for Airports and Malls", is available for free from the App Store for iPhone, iPod touch and iPad at http://www.itunes.com/appstore/. An Android version of the app is also available via the Android Market, but it does not yet include airport maps. For screen shots and other visual assets please visit http://www.pointinside.com/press and select Media Assets.
About Point Inside, Inc.
Point Inside™, Inc. has developed the most comprehensive, free, indoor map and directory application for iPhones, iPod touch, iPad and Android, providing the only interactive Indoor Smart Maps™ and directories, level by level, for over 100,000 stores, gates, kiosks, restrooms, elevators, escalators, and other guest services for malls and airports in the U.S. and Canada. In addition to its industry-leading application, Point Inside makes its Indoor Smart Maps available to third-party software developers and companies via a licensed API. Founded in 2008 and based just outside of Seattle, Washington, Point Inside is led by a team of executives with decades of experience developing mobile and Location Based Services (LBS) applications for companies such as Amazon, AT&T, Boeing, Qualcomm, and RealNetworks. Additional details can be found at: http://www.pointinside.com; Facebook: http://www.facebook.com/PointInside; Twitter: http://www.twitter.com/PointInside.
For more information, contact:
Brian Wilson, VP, Marketing, Point Inside, Inc. at brian(at)pointinside(dot)com or via mobile at 206-962-0238.
# # #