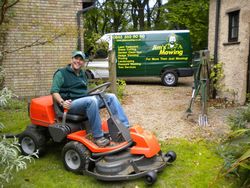 "I am really looking forward to my new business and my new career with Jim's Mowing. I simply love working outdoors, the business is a huge success in Australia and I am really keen to replicate that here in Cambridge."
(PRWEB) May 30, 2010
How does someone who has spent the past three years living aboard a dive boat in the Solomon Islands decide to launch a gardening business in Cambridge? Well Justin Anderson is the man to ask.
Justin and his partner Philippa have spent the past ten years traveling the globe, exploring some of the most remote areas of the world, living in places like Papua New Guinea, Fiji, Vanuatu and East Africa.
Together they have survived earthquakes, tsunamis, lightning strikes and close encounters with salt water crocodiles, all so that they could return to the UK and launch the Australian garden maintenance franchise Jim's Mowing in Cambridge.
Jim's Mowing is the world's biggest lawn care and garden maintenance franchise. It was all started in 1989 in Melbourne, Australia by Jim Penman – one man with a lawn mower, a fistful of leaflets and an urgent need to pay the rent. The company now has some 2000 franchisees operating in four countries.
Justin will be doing 'more than just mowing' however. He will be offering a full range of garden maintenance services, including lawn treatment, hedge trimming, pruning, general clean ups, pressure washing and tree work.
Justin has extensive experience in landscaping and commercial forestry, while he recently completed a comprehensive training course at Hadlow College in Kent, together with an NTPC certification from Madingley Hall, Cambridge.
Justin commented - "I am really looking forward to my new business and my new career with Jim's Mowing. I simply love working outdoors, the business is a huge success in Australia and I am really keen to replicate that here in Cambridge."
He added "A lot of people just don't have the time to maintain their gardens, but they can rely on our professional and reliable service, backed up by the quality assurance a company like Jim's Mowing can offer. That's certainly what I aim to deliver."
Residents won't be able to miss Justin's Jim's Mowing vehicle out and about on the streets of Cambridge. He is fully insured, happy to provide free quotes and all his work is guaranteed.
He can be contacted on 0845 555 60 60 or via http://www.jimsmowing.co.uk
# # #