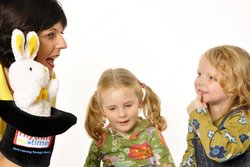 We're really excited about our new franchise opening in Wales later this year. It's a great area for development and the new owner has plans to use Welsh in the classes.
(PRWeb UK) May 31, 2010
Set up in 1995, children's franchise Rhythm Time first began franchising in 2000. In its tenth successful year as a children's franchise group it is set to launch its latest franchise in Wales later this year.
From a young age Kathy Doolan enjoyed music and singing. Kathy studied at the Royal Scottish Academy of Music in Glasgow and went on to become Head of Music in a Scottish school.
After having children of her own Kathy decided to combine her love of music and children and set up Rhythm Time. 15 years later the business has gone from strength to strength. It has been running as a children's franchise business for 10 years and now has a healthy franchise portfolio spanning the UK.
Today Rhythm Time continues to survive in a highly competitive children's franchise market. Its core values of unaccompanied singing and the high quality of the classes has been successfully replicated in many areas of the UK – with well over 10,000 children attending classes weekly.
Rhythm Time is a well thought out set of unique music courses especially written for different age groups: babies, toddlers and pre-school children.
Says Kathy: "We're really excited about our new franchise opening in Wales later this year. It's a great area for development and the new owner has plans to use Welsh in the classes." says Kathy.
Adds Kathy: "Ten years ago I never dreamt that I would be the owner of a successful children's franchise. After the initial incredible success of the business, I looked into the option of franchising as one of my teachers, Frances, was moving away to Cheshire."
"Frances' daughter came to the very first Rhythm Time class in 1995. Frances was so inspired by the response of the children to the classes that she was keen to set up a Rhythm Time business when she moved."
"This spurred me into action and in 2000 Rhythm Time became a franchised business." Says Kathy.
Says Frances: "My musical background was not vast, being a mediocre piano player for my own pleasure and singing in choirs, but with the quality training and support offered to me, my confidence grew and I have never looked back. "
"I could never have imagined running my own business around the family, yet it works so well. Now the business has expanded to such a size, there is a lot of work involved but the rewards, both personal and financial, make it very worthwhile." adds Frances.
An early introduction to music has many developmental benefits to a young child. According to Dr Alexandra Lamont, Lecturer in the Psychology of Music at the University of Keele: "Children who take part in music develop higher levels of social cohesion and understanding of themselves and others, and the emotional aspect of musical activities seems to be beneficial for developing social skills like empathy."
Rhythm Time's music classes for babies aims to stimulate all of a baby's senses. Babies come to classes from as young as six weeks old and experience a wide range of sensory activities designed to stimulate vision, listening and sense of touch by using songs, percussion instruments and much more.
At around 15 months music classes for toddlers offers a completely new set of courses designed to improve their concentration, hand eye co-ordination and motor skills by using a wide range of props, percussion instruments and lots of singing and dancing.
Says Kathy: "In our music classes for pre-school children learn to recognise a variety of musical signs, listen to orchestral pieces and instruments and learn to conduct the class band. It's great fun and the children learn so much."
Rhythm Time is a family owned children's franchise business and continues to grow. If you share the same passion and belief in music for babies and young children, contact Kathy to find out about Rhythm Time's franchise opportunities on +44(0)121 711 4224.
Information For Editors
www(dot)rhythmtime(dot)net
Rhythm Time
76 Beechwood Park Road
Solihull
B91 1ES
Telephone: 07813 831516 / +44(0)121 711 4224
Email: rhythmtimemarketing(at)googlemail(dot)com
Rhythm Time was started in Solihull in 1995 by Kathy Doolan. After a very successful five years, Kathy decided to franchise the business in 2000.
Rhythm Time now has franchises all over the UK, operating in 181 areas with approximately 10,000 children attending classes.
Rhythm Time offers three age-appropriate classes for babies (birth to 15 months), toddlers (15 months to three years) and pre-school (three to school age).
Children come to Rhythm Time as tiny babies and progress to toddler and pre-school classes, enjoying a wonderful introduction to music.
All the courses have been created by Kathy, who trained at the Royal Scottish Academy of Music & Drama in Glasgow.
Kathy previously was head of music in a Scottish school and shares with all franchisees and teachers a real passion and belief in the importance of music during a child's formative years.
Kathy is a strong believer that singing unaccompanied helps to develop a child's speech and language from an early age and this forms a key element in all the classes.
###