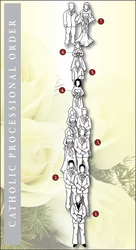 If you aren't hiring a professional to plan your wedding, then this is something you absolutely need to know. The article and exclusive compact guide fill in the blanks and show exactly what you need to do.
Edinboro, PA (PRWEB) May 31, 2010
BridesVillage.com, a leading retailer of wedding accessories, has published a free illustrated article and downloadable wedding processional guide that explains wedding processional order and etiquette for several major religions. Both the wedding processional guide and the comprehensive illustrated article are available now on the website; they contain step-by-step instructions and accompanying diagrams for planning Catholic, Protestant, Jewish, or non-denominational wedding processions.
"If you aren't hiring a professional to plan your wedding, then this is something you absolutely need to know," said Cathy Ward, owner of BridesVillage. "The article and the exclusive compact guide fill in the blanks and show exactly what you need to do."
Ward added, "We are particularly excited about the downloadable guide we designed. It lays out the wedding processional order for each religion right on a single page. You can print it out, stick it in a binder or folder, and refer to it whenever you need it. No one else is offering a free resource like this."
Ward noted that she was inspired to create both the downloadable guide and the article because of the confusion that often surrounds wedding processional etiquette. While most people have at least seen a wedding ceremony processional or have a notion of what one looks like, the exact details necessary for planning one can cause stress for couples who are caught unprepared.
Ward said, "Engaged couples have this tendency to not think about their processional until the last minute. It's an easy thing to overlook, but then you start to panic when you realize that your processional is the start of everything, and it's one of the most memorable moments of your ceremony."
While Catholic, Protestant, and Jewish wedding processional orders are similar in many ways, there are some important differences between each. Jewish wedding processionals, for instance, often include extended family members like the bride and groom's grandparents, while Catholic processionals traditionally do not. The guide and the article highlight these differences, outline the customary wedding procession order for each denomination, and provide pointers for ways to modify the processional to fit each couple's unique circumstances.
"Sometimes you run into issues where there's a deceased parent, or there's more than one center aisle in the church. We tried to anticipate these circumstances and explain the proper etiquette to follow for each," Ward said.
Ward added that although wedding processional etiquette for most religions is almost always flexible enough to accommodate any situation, the key to a successful processional is preparation.
"Everyone gets nervous right before the start of the ceremony," Ward said. "The best way to make sure your wedding looks exactly like you pictured it is to have everything worked out well in advance. The unique resources we've made available will help you do that."
Ward has spent the past 18 years working in the wedding industry; the bridal processional guide and accompanying article is part of an effort to share her expertise with brides everywhere. Her website currently offers several additional free and extensive planning resources, including a companion piece to the processional article that explains common aisle runner questions.
About BridesVillage.com
BridesVillage.com is one of the top online suppliers of wedding accessories. Opened in 2001 by Cathy Ward, BridesVillage specializes in offering both popular and hard-to-find selections of cake toppers, aisle runners, unity candles, wedding favors, bridal party gifts, anniversary supplies, and much more. BridesVillage also features complete themed wedding collections including accessories for Western, Cinderella, and beach themed weddings.
###