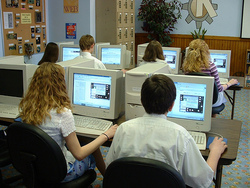 Teen Biz has been a powerful addition to our curriculum
Philadelphia, PA (PRWEB) May 31, 2010
Save the date! The School District of Philadelphia will host an end-of-year celebration to recognize the hard work of students who have made significant improvements to their reading scores. This event will give community members an opportunity to see first-hand how the school's partnership with Achieve3000 is resulting in double-digit reading gains.
Who: Saliyah Cruz, Principal
Maureen A. Skalski, Principal
What: End-of-Year Celebration to highlight significant reading gains by students
When: Tuesday, June 1, 2010
Where: 10:00 a.m., West Philadelphia High School, 4700 Walnut Street, Philadelphia, PA 19139
1:30 p.m., George Sharswood Elementary School, 2300 S. 2nd Street, Philadelphia, PA 19148
Scheduled to join Principals Saliyah Cruz and Maureen Skalski are William K. Greenlee, Councilmember at Large City Council of Philadelphia and representatives from Achieve3000. Participants can learn more about the Achieve3000 reading program the students used both at the school and at home to improve their reading abilities.
"Teen Biz has been a powerful addition to our curriculum. It is the only intervention we have found that allows our teachers to continue to focus on the district's core curriculum while at the same time increasing students' literacy levels," says Saliyah Cruz, Principal West Philadelphia High School. "Teen Biz allows all students, regardless of deficiencies or reading gaps, to access the same content. This allows the ability to gain the content knowledge necessary to engage in meaningful class discussion and skill application."
Achieve3000 is the leader in online differentiated instruction that uses a proprietary software engine to provide, via the Internet, tailored assignments to each student in the class based on his or her reading level. The company's literacy solutions are delivered in a non-fiction, current event format and are based on decades of scientific research. Additional information about Achieve3000 can be found online at: http://www.achieve3000.com.
# # #