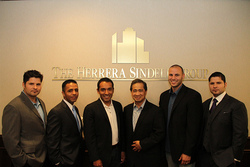 "We apply two decades of real estate experience to the property acquisition we present, and there is no question about our being in the business of investing and reaping a return on investment for our investors and our company," stated Juan Herrera
Canyon Country, CA (PRWEB) May 30, 2010
Juan Herrera, spokesperson for The Herrera Sindell Group, references the tripling of the business' net worth over the last year, and the variety and number of monthly acquisitions the firm makes, often averaging 25-50 - activity which brings even more investors to the company. "Willing investors in the open market are confronted by large numbers of competitors looking for the same product - sound investments that yield strong cash-on-cash returns.
"We have 'skin-in-the-game' - the Herrera Sindell Group invests money into each deal, which means we have a real interest in the property. We take the additional step of depositing all funds directly from clients' bank accounts into an escrow account. By the time a property is presented to clients, 90 percent of the investigative work has been done. Our clients enjoy access to every detail before we close and the property is acquired."
"We apply two decades of real estate experience to the property acquisition we present, and there is no question about our being in the business of investing and reaping a return on investment for our investors and our company," added Herrera.
"Alongside commercial acquisitions just entering the real estate picture, over the past six months, higher priced residences have experienced a decrease in property values. While foreclosures are still high, it remains a perfect real estate investment profit opportunity."
"When we meet prospects, we want them to know who we are, what we do and how we do it - for them."
The Herrera Sindell Group has engaged advertising agency Power Media Group to grow company awareness in the Southern California Hispanic market.
ABOUT POWER MEDIA GROUP:
Power Media Group, Inc. is an Advertising & PR Agency that specializes in creating all inclusive Spanish language campaigns for high-profile clients seeking to reach the $1trillion buying power booming Hispanic market, through Printing, Radio, TV, Outdoors, PR, Customer Service, Events and Promotions.
· Patricia Gracia-United States SBA Minority Small Business Champion of the Year 2010
· Patricia Gracia, Winner of the 2010 Los Angeles Business Journal "Woman Making a Difference Award in the Rising Star," category.
· Power Media Group, Winner of the 2010 ADDY Awards for Excellence in the following categories: Web site Design, Local Radio Creative, Logo & Company Image
· Patricia Gracia, panelist to the Latin Business Association 2009 annual conference and expo, presented, "The Transforming Role of Latinas in Business"
· 2009 Addy Awards for Excellence in Creativity for a TV ad in the General Market - Catalog Sales.
· -Patricia Gracia, Winner of La Opinion Newspaper 2009 Distinguished Woman in the category of Business and Technology.
· Patricia Gracia, nominated for the Santa Clarita Valley Business Leadership Awards and for Women in Business 2009 Award.
· Tony Gracia, nominated by the San Fernando Business Journal as one of the Top Valley's CFO of 2009.
· Power Media Group named among the 50 Fastest Growing Private Companies of 2009 by the San Fernando Valley Business Journal.
http://www.powermediagroup.com/awards.html
· Power Media Group, Winner Latin Business Association 2008 Sol Award as Business of the Year.
http://www.powermediagroup.com/what.html
· Commended by Los Angeles County Board Supervisor Mike Antonovich and U.S.Congressman Howard "Buck" McKeon - 25th District of California, among others.
http://www.powermediagroup.com/recognitions.html
· July 2008-SBA qualification, for a real estate loan -acquisition of an 11,000 square-foot commercial building, a new home for clients and customers
http://www.powermediagroup.com/pmg_opening.html
TV- VIDEOS:
-Telemundo Interview Al Rojo Vivo:
http://www.youtube.com/watch?v=XWFIaXHOhYc
-Univision Interview Tony Gracia - Donde están los trabajos?
http://www.powermediagroup.com/tony_interview.html
# # #