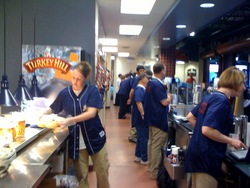 We also want to thank the Legends staff for their help and support. They were especially appreciative of our hard work and performance.
Lancaster, PA (Vocus) May 29, 2010
Clear, sunny skies, warm weather and lots of food made a great night for a ballgame as ProspectMX, a Lancaster-based a provider of full internet marketing services, gathered a large presence of volunteers to work the concession stands during Wednesday night's Lancaster Barnstormers game.
The volunteers from ProspectMX and its sister company, GetMyHomesValue.com, worked a section of concession stands run strictly by volunteers to help raise money for the Millersville University First Book Organization, a non-profit organization devoted to providing books to children to improve reading skills.
Volunteers worked to operate cash registers, make food runs and fill drink glasses while providing the finest concession customer service in minor league baseball. Overall, paid attendance at the game was about 3,000 with the concessions stands receiving orders from more than half of the game's attendees.
The work of the volunteers resulted in a $750 donation to First Book from the evening's concession profits.
"It gives me great pleasure to be on the Board of Directors for First Book. Doing so allows not only myself, but the staff to give back to such a charitable organization helping children. We had a great time working the concession stands," said Steve Young, ProspectMX Co-Founder and CEO. "We also want to thank the Legends staff for their help and support. They were especially appreciative of our hard work and performance."
First Book is scheduled to receive concession stand proceeds from four future Lancaster Barnstormers fundraisers. Employees from ProspectMX also plans to continue helping First Book raise money for children's books at these upcoming Barnstormers games. Dates and times for future fundraisers are shown below:

Tuesday, June 8, 2010
Tuesday, June 29, 2010
Wednesday, August 11, 2010
Saturday, September 4, 2010
First Book
First Book provides new books to children in need addressing one of the most important factors affecting literacy – access to books. The organization delivers more than 65 million books to programs serving children in need across the United States and Canada. For more information visit http://www.firstbook.org.
ProspectMX, LLC
ProspectMX, LLC is an in internet marketing services agency, established in late 2007 by founders of an Inc. 500 company. Headquartered in Lancaster, PA, the internet marketing experts offer effective solutions, customizable to clients nationwide. Portfolio of services include organic SEO, link building, pay-per-click management, internet marketing consulting and educational SEO workshops. For more information or to receive a free consultation, visit http://www.prospectmx.com.
# # #