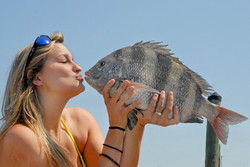 Gulf Shores And Orange Beach, Ala. (PRWEB) May 28, 2010
"When my last child went to college, I left home, too," says Captain Kathy Broughton, who for the last 17 years has operated the charter boat, "Kitty Wake," based at of Zeke's Marina in Orange Beach, Ala., Broughton takes families and seasoned anglers fishing every day all year.
"My family always had spent every summer and every other weekend during the year at Orange Beach fishing," Broughton explains. "So, when all of my kids were finally out of the house, I returned to Orange Beach and became a charter-boat captain. On the 'Kitty Wake,' we fish for king mackerel, Spanish mackerel and redfish near shore, and for speckled trout, redfish, flounder and pompano in the Perdido Pass and the back bays. I love to take people fishing, and I enjoy teaching people how to fish."
The negative media reports of the oil spill in the Gulf of Mexico have caused people to overlook more-important facts. Eighty percent of the Gulf of Mexico, including many of the estuaries, the back bays, the canals, the lagoons and the bayous, are still open for fishing. Although many of the charter-boat captains have signed-up to aid in the oil spill clean-up effort with British Petroleum (BP), you'll find a large number of boats and captains still available, especially on Alabama's Gulf Coast, and plenty of fish.
"I've fished since I could walk," says Mandy Prell of Orange Beach, Ala, a full-time college student, majoring in oceanography with a minor in biology. "About 3-years ago, I became a deckhand on the charter boat 'Zeke's Lady' with Captain Butch Tucker. I spend my spring break and all summer as a deckhand to earn money for college."
Prell knows there's no better way to learn about the ocean, the Gulf of Mexico and the fish and other sea life than fishing every day. As a deckhand on a charter boat, Prell teaches anglers how to fish, bait their hooks, set the hooks, reel-in the fish and bring them onboard.
"I really enjoy being on the water every day and teaching people how to fish," Prell explains. "I love to fish. I want to share my joy and knowledge with newcomers who want to learn how to fish and anglers who want to learn to fish better or how to catch more or bigger fish, especially red snapper. The biggest red snapper I've ever caught weighed more than 30 pounds, and I'm looking forward to the opening of red snapper season here at the beach on June 1."
Anglers in Alabama began to build and deploy fishing reefs in the 1950s, and today, Alabama has the largest artificial-reef building program in the nation. "We have more than 5,000-artificial reefs off Alabama's Gulf Coast, and 2,000 to 3,000 have published GPS coordinates, so anyone can fish them for reef fish and the pelagic species, such as king mackerel, cobia, dolphin, etc.," explains Vernon Minton, director of the Marine Resources Division of the Alabama Department of Conservation and Natural Resources. "We also have 13-inshore artificial oyster reefs that have been built to attract and hold speckled trout, redfish, flounder, white trout and other inshore species."
The oil spill in the Gulf of Mexico has not affected Alabama's beaches, the state's estuaries are still pristine, and the fishing is as good, if not better, than it ever has been. Because of the demand from no-boat fishermen for a better saltwater fishing pier after Hurricane Ivan destroyed the previous pier in 2004, Alabama built the new Gulf State Park Pier in Gulf Shores, Alabama, with three artificial reefs around the end of the pier, bathrooms and cleaning stations and a well-stocked tackle shop and snack bar.
If you're an inshore fisherman and want to catch inshore fish, Captain Kathy Broughton can guide you to speckled trout, redfish and flounder. If you're an offshore fisherman, get on the "Zeke's Lady" with Mandy Prell and Captain Butch Tucker and prepare to catch plenty of red snapper, grouper, white snapper, vermilion snapper, triggerfish and other reef-type fish. Anglers also can spend leisurely days fishing off the Gulf State Park Pier. Not impacted by the oil spill, Alabama's Gulf Coast, including the towns of Orange Beach and Gulf Shores, has opened its arms to fishermen and says, "Y'all Come."
To fish with the ladies, contact Zeke's at 251-981-4044,or go to http://www.zekeslanding.com.
To enjoy the freshest seafood the Gulf of Mexico can provide at reasonable prices and have a great day of fishing, either inshore or offshore, visit http://www.fishingalabamascoast.com, or call 1-800-745-SAND (7263).
###