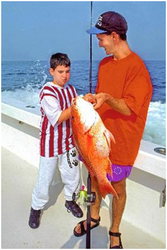 Gulf Shores and Orange Beach, Ala. (PRWEB) May 30, 2010
Most people never have caught a 20-pound red snapper. Even fewer have seen a 30-pound red snapper. But fishermen at Orange Beach, Alabama, catch these Goliath-sized red snapper every week during snapper season, which starts June 1. Alabama has the largest artificial-reef program in the nation with over 5,000 public reefs offshore. Although the federal government has closed portions of the Gulf Coast to fishing, Alabama's Gulf Coast is wide open.
"Often on a 4-hour trip, a party of six can catch their limit of red snapper, as well as quite a few vermilion snapper, lane snapper, triggerfish and other bottom fish as well as an occasional king mackerel," says Troy Frady, Captain of Distraction Charters, based out of Orange Beach Marina on Alabama's Gulf Coast.
Many of the charter boats along the Gulf Coast have signed-up to work with British Petroleum (BP) in the cleanup effort in the Gulf. Therefore, many charter boats from Texas to Florida won't be fishing this year. However, most of the charter boats in Orange Beach will take sportsmen fishing for not only red snapper, but also marlin, tuna, wahoo and dolphin (mahi mahi).
"There are still plenty of fish-rich waters in the Gulf of Mexico that we can fish," says Captain Johnny Greene of the charter boat "Intimidator." "Many of our Orange Beach captains didn't sign up for the Vessels of Opportunity Program with BP. Many of us would rather take people fishing. And, with snapper season opening June 1, we've got plenty of big red snapper to go and catch."
Sportsmen also will find June prime time for fishing inshore waters along Alabama's Gulf Coast as large schools of speckled trout, redfish and flounder move onto the seven artificial inshore reefs built by Alabama's Department of Marine Resources. All of the back bays and estuaries teem with fish, and there are plenty of boats and inshore captains to take fishermen on their trips of their lifetimes.
Those who choose not to fish on a boat can fish 24 hours a day, 7 days a week at the Gulf State Park Pier in Gulf Shores, Alabama, the longest pier on the Gulf of Mexico. To make pier fishing even more productive, Alabama's Department of Conservation has built three artificial reefs almost within casting distance of the pier. Anglers catch king mackerel, Spanish mackerel, whiting, ground mullet, redfish, speckled trout, pompano and flounder daily and nightly from the pier. The Gulf State Park Pier has a bait-and-tackle shop and a concession area with snack foods, as well as restrooms at both the pier's base and midway down the pier. The friendly anglers on the pier will show you how to fish from the pier.
While many ports along the Upper Gulf Coast have scaled-back on fishing or have stopped fishing altogether, Alabama's Gulf Coast is wide-open for both inshore and offshore fishing. To learn more about where to find captains, boats, and places to fish, visit http://www.orangebeachfishingtrips.com.
# # #