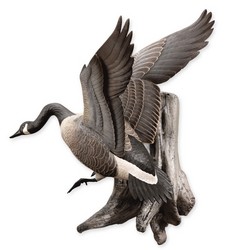 Drexel Hill, PA (PRWEB) May 30, 2010
A new online store has surfaced to serve a very unique user base - wild life collectors. Known as "Decoy Spot", the site aims to supply all kinds of realistic decoys to all people living in the US. With quality decoys hard to find in some areas, wild life collectors finally have an online haven where they can place orders whenever they need to add more home décor and collectibles to their collection.
A blogger who manages the Decoy Spot Word Press blog points out how rare the items being sold are by commenting, "I love collecting Decoys. I am always looking for well made hand painted Decoys to add to my collection. I have searched all over the internet and found great Decoys for every collection. Decoyspot.com is where I have placed this great looking realistic ones and some other cool stuff. We found a few manufacturers but not many web sites selling them."
The website has wide knowledge regarding the hobby of decoy collecting with a lengthy article posted on the "Information" section of the Decoy Spot website. It highlights the history of decoy collecting and how selling duck decoys can be highly profitable over time along with other interesting decoy trivia.
The homepage showcases their most popular decoys which are the turkey, duck, and goose decoys. Other items are available to expand the collection even further with fish decoys, song birds, flying sculptures and even decorative figurines. Each of the categories can be browsed using the sidebar on the left. Each link category leads to all of the decoys in the category complete with thumbnails and prices all in one page to make it easy to select the desired decoy. Clicking on an item reveals a special description of the item along with its full measurement statistics and weight. A link to a larger image can also be clicked on to see how lifelike the decoys really are. Like any typical online shopping site, the item can be added to the shopping cart. A checkout button is available on the shopping cart once all of the chosen items are present. Payments can be made via PayPal or through the major credit card labels commonly offered in other online shops.
All of the decoys being sold are hand-crafted and hand-painted to stand out from the rest sold in stores. The designs are akin to the designs made by famous wood carver Sam Nottleman. The reproduction of solid resin shows the close attention to detail on each decoy. Many of the duck decoys are life-sized and are priced roughly above $100, but there are also some quarter life-sized decoys that cost less than half of the life-sized ones. There are also a few lifelike turkey decoys in the duck section. Some of the other home decorations being sold include antique lamps, coot hooks, candleholders, and even chess sets. All of the items sold have some connection to the wild life theme.
Also present in the site is a link to the store blog that explains to customers why they are the best source for goose decoys and other wild life collectibles. There are also some informative articles in the "Information" page that can be useful to people that are new to decoy collecting and wish to learn more about turkey decoys and other fun facts about decoy collecting. Decoy Spot comes out fresh with a full site that has all the resources to excite any wild life collector.
For more information, press only:
Decoy Spot, (610) 446-517, customerservice(at)decoyspot(dot)com
For more information on Decoy Spot:
http://www.DecoySpot.com
# # #