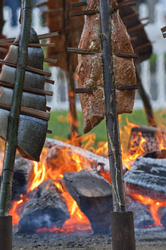 We are thrilled that the President and his guests will have the opportunity to enjoy Chef Stoller Smith's unique preparation of this regional favorite.
Mcminnville, OR (PRWEB) May 31, 2010
Long-time guest chef and board member of Oregon's annual International Pinot Noir Celebration (IPNC), Jason Stoller Smith will represent the Pacific Northwest region at a June 8 White House Picnic for 2000 people. The Picnic will highlight regional cuisines spanning the country.
Inspired by the IPNC Salmon Bake, Daniel Shanks, White House Usher responsible for Food and Beverage, suggested that the First Lady invite Chef Stoller Smith to recreate the event on the White House Lawn. According to Mr. Shanks, the Pacific Northwest Salmon Bake will be a visual centerpiece and will be located on the South Lawn near the Oval Office. The Northwest Salmon Bake is a long-standing tradition of the IPNC, based on a Native American practice featuring wild salmon roasted on alder stakes over a dramatic custom-built fire pit.
"We are thrilled that the President and his guests will have the opportunity to enjoy Chef Stoller Smith's unique preparation of this regional favorite," says IPNC Culinary Director Anne Nisbet, adding, "Jason has contributed his talents to the IPNC and the Salmon Bake for many years and his support of Oregon farmers, ranchers and fishermen has been integral in nurturing the northwest's famed farm-to-table cuisine."
Preparations for the White House Pacific Northwest Salmon Bake are underway and include the construction of a custom fire pit by the National Park Service, which will temporarily remove a section of the turf where the salmon will be roasted. White House Executive Chef Cristeta Comerford will coordinate the ordering and delivery of Copper River Salmon for Chef Stoller Smith and the northwest culinary team. Jason Stoller Smith expresses excitement saying, "We are honored to have the Pacific Northwest represented on a national stage and thankful that Daniel Shank's experience at Oregon's IPNC resulted in the salmon bake being a part of this regional celebration on the White House Lawn."
The IPNC Salmon Bake takes place Saturday, July 24, 2010 as a part of the 24th Annual International Pinot Noir Celebration in McMinnville, Oregon. The salmon bake is among the many world-class meals, wine tastings and events hosted during the IPNC weekend July 23-25, 2010. Highlights of this year's celebration include dynamic Pinot Noir tastings, the elegant Grand Dinner, engaging food and wine pairing seminars, a blending seminar with featured winemakers, a meat curing demonstration, intimate vineyard tours and lunches at one of 13 Willamette Valley winery destinations, and the rare chance to spend three memorable days tasting, dining and celebrating with 69 domestic and international Pinot Noir winemakers and 50 northwest chefs in picturesque Oregon wine country.
IPNC Full Weekend Tickets offer exclusive access to all seminars, tastings, tours, activities, and meals over two days as well as the Sunday Sparkling Brunch. Tickets are $975 and sold on a first come, first serve basis. A la carte tickets are available for a limited number of events. For details, contact the IPNC at 800/775-IPNC, info(at)ipnc(dot)org, or http://www.ipnc.org.
###