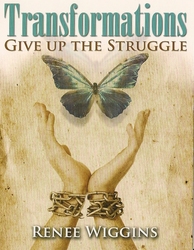 Silver Spring, MD (PRWEB) May 31, 2010
Tywebbin Creations promotes author Renee Wiggins's latest book, "Transformations: Give Up The Struggle," by connecting with hundreds of target readers through social network media, from the comfort of Renee's home office.
The essence of transforming minds has been captured in Wiggins's third book, just recently published. Now she will be part of a movement that is transforming the way books are promoted.
Tyora Moody of Tywebbin Creation says, "The purpose of a virtual book tour is to generate 'word of mouth' about an author's book. Virtual book tours have no physical setting and take place online. This is beneficial to an author during difficult economic times when travel to various cities or bookstores for book promotion may not be possible."
These "tours" include online stops via social media platforms like blogs and or networks (for example, Facebook.com). Moody adds, "Book promotion can be exciting and rewarding for an author when they can connect with readers from the comfort of their home or office."
Wiggins is clearly excited by the possibilities. She notes, "It is a unique way of reading hundreds of people in various cities and states, all at the same time." Authors and reader participants in the tour will be able to direct questions to each other and carry on real conversations.
Wiggins states, "Tyora of Tywebbin Creations recruits people who have read 'Transformations: Give Up The Struggle.' to help spread the word about the tour and the book a month in advance. This technique draws interest to the tour."
For more information about the book tour click here: http://www.tywebbin.com/blog-tours/eblasts/sign-up/tc-sm-tour-rwiggins.html
Renee is a Wellness Consultant,(Registered Dietitian, Massage Therapist)owner of Results By Renee based in Maryland. Renee counsels and designs programs to help clients achieve healthlier lifestyles.
# # #