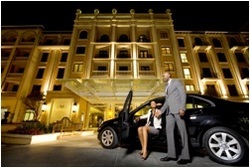 The broader amenities of the Montecasino complex, including the casino, theatre, cinemas, retail shops, and restaurants complement the beautiful new Southern Sun hotel, providing convenience and myriad opportunities for entertainment.
(PRWEB) May 18, 2010
Opening at the end of April 2010, Southern Sun's Montecasino Hotel adds 194 rooms to the precinct, making the total room count 619. With 97 double/double rooms, 4 standard rooms, 1 room for physically challenged guests and 2 studio suites, the Southern Sun Montecasino hotel is ideally aimed at the sport and leisure market. Its location in the new business and conference district – The Pivot – makes it the perfect location for business travelers too.
The chic hotel, modeled on the Palazzo Corsini, built at the end of the 15th century on the slope between Gianicolo and the Tiber in Italy, reflects design as it was then, while simultaneously featuring modern elements. The aesthetic of the hotel fuses old world charm with contemporary design. So while the structure and décor incorporate the essence of Venetian architecture – as embodied in the use of stone, fine handcrafted oak furniture, coloured glass, pewter, intricate metal work and stainless steel, - with its contemporary facets, the building is also rooted in the now.
"The Montecasino complex tells a tale of a walled Tuscan Village surrounded by a sprawling town along its natural watercourse, and the new Southern Sun http://www.southernsun.com [Montecasino Hotel continues this story," says Robert Jasper, Southern Sun Montecasino General Manager.
The elegant décor extends from the plush public spaces to the bedrooms, where guests can enjoy all the luxuries synonymous with a four-star stay: crisp linen and lavish throws; a beautiful bathroom with separate shower and classically-inspired free standing vanity; individually controlled air-conditioning; remote control flat screen TV with satellite channels; direct-dial telephone and voicemail; in room tea-coffee making facilities; laptop size safes; work desk and wireless internet access. Attention to detail is evident in stylish appointments: vintage inspired telephone, beveled edge mirrors and rich textured wallpapered features.
With the echoes of running water beneath ones feet, swans and an array of birdlife, guests can sojourn on the decked terrace in the shade of continental-like, copper canopies. In addition to a sublime, rim-flow swimming pool (and a splash pool for children) the Southern Sun Montecasino Hotel also houses a high-spec gym and offers guests the convenience, 18-hour room service, laundry/valet, concierge, airport handling service, and secure parking.
For a true taste of Venetian inspired cuisine, incorporating the aromas and flavours of the Mediterranean, the hotel's 120-seater restaurant - Punchinello's - showcases Southern Sun's fine culinary talents. Executive chef Gerard Vingerling has created a selection of modern and classic dishes, complemented by a bouquet of beautiful South African wine pairings by the glass. The restaurant's unique open showcase kitchen fosters a connection with patrons and encapsulates the theatrical nature of food and dreams typical of a busy Venetian eatery.
In his role as General Manager Jasper aspires to create a memorable experience for both guests and his young, energetic team. "We are working within in a creative, interactive, engaging environment with state-of-the-art facilities and an array of services," he says. "The broader amenities of the Montecasino complex, including the casino, theatre, cinemas, retail shops, and restaurants complement the beautiful new Southern Sun hotel, providing convenience and myriad opportunities for entertainment."
Montecasino is a veritable hub of activity. And with Southern Sun's new Montecasino hotel guests are truly spoilt for choice.
About Southern Sun
Southern Sun is one of the leading hotel groups in Africa, providing world-class accommodation across all markets and offering the widest distribution of hotels in Africa in major urban centres and key leisure destinations. Southern Sun's hotel portfolio comprises various own brands, segmented to guests' needs, as well as managed global brands.
Our collection of 90 hotels, with 14 112 rooms, combine local favourites with some of the world's most respected hotel brands: Southern Sun Hotels and Resorts; SunSquare; Garden Court; StayEasy by Southern Sun; Southern Sun Lifestyle Resorts; InterContinental Hotels and Formula 1. Southern Sun has also invested significantly in expanding to Kenya, Zambia, Seychelles, Tanzania, Mozambique, Dubai, and Nigeria, adding to its international portfolio.
With over 40 years of experience in servicing the local and international business and leisure traveller, Southern Sun is focused on building its portfolio of successful global brands and continues its expansion in Africa, the Indian Ocean and the Middle East.
Southern Sun is wholly owned by Tsogo Sun Holdings, one of South Africa's most successful entertainment and hospitality groups. Tsogo Sun Holdings comprises Southern Sun and Tsogo Sun Gaming.
# # #