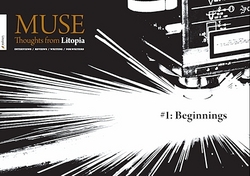 A free e-zine by writers... for writers
(PRWEB) May 21, 2010
MUSE, a new quarterly literary e-zine from the pioneering Litopia Writers' Colony, will launch on Monday, May 24.
With big-name contributions from the likes of Lee Child, Bernard Cornwell, RJ Ellory, international YA success MG Harris and Charlaine Harris, the first issue makes gripping reading.
Written and produced by members of Litopia, Muse contains author interviews, articles, reviews and short fiction – not to mention a writers' agony column with the irate (and somewhat batty) Granny Bates, an anonymous Stig-like publishing guru.
Litopia founder, London-based literary agent Peter Cox, said: 'We've always been a pioneering community, from being one of the earliest online writing forums through to the development of our podcasts and our use of social media to engage new members and listeners.
Continues:-
'The birth of Muse is another groundbreaking move. The publishing climate is undergoing a radical transformation, particularly the relentless rise of online media set against the decline in printed media, and Muse positions Litopia at the forefront of this changing climate.
Rising Stars
'Muse encompasses everything that Litopia is about,' Cox said. 'One of the most pleasing aspects about the way the community has developed over the years is the collegiate atmosphere that prevails, and this is something that is at the very heart of Muse. I took a back seat when the idea was first being discussed and left it to the editorial team to get the magazine off the ground. They've done a fantastic job, both in terms of the content and the design of Muse – it looks absolutely first-class. I believe this is where many of the 'nets rising literary stars will first make their debut.'
Team Effort
Most of the Muse team have never met each other, working instead in Litopia's forums. Holding the editor's reins for the first issue of Muse is John Quirk, a former journalist now working in PR and advertising.
He said: 'It's been a fascinating project to be involved with, particularly as the editorial team has been on board from the very start and we've all watched Muse grow from an initial throwaway comment within the Litopia forums. The finished product has been a real team effort and I'd like to thank everyone within Litopia who has contributed in any small way.
Continues:-
'We were also very lucky in that one of the editorial team, Jamie Mollart, is an associate director at Leicester-based PR, marketing and design company Rock Kitchen Harris, which kindly offered to look after the design. I was knocked out when I first saw Muse in all its glory. The designer, Matt Laws, has pitched it spot on.'
John explained: 'Each issue of Muse will have a theme running throughout, chosen by the editorial team, and a section focusing on a particular genre, chosen by the editor, with the plan being that each member of the editorial team takes a turn in the editor's hot seat. The theme for issue one is, naturally, "beginnings", with the genre focus on crime.'
Coming Next
The online build-up to the launch of Muse is being coordinated by Jamie.
'The beauty of an e-zine is that its potential readership is unlimited,' said Jamie. 'It hasn't cost us a penny to put together, other than the time of those involved, and there is no print run or physical distribution to worry about.
'We will put Muse in the RSS feed for the Litopia podcasts, which have in excess of 20,000 listeners a week, and everyone who is subscribed will automatically receive it. Muse will also be promoted via our Twitter profile - @litopia – which has more than 8,000 followers, in addition to being available as a download from Litopia itself. All this, of course, ensures we are hitting our target audience – and all of it at no cost.
Continues:-
'The same principle applies to promoting Muse – via Twitter, Facebook, and a host of blogs, with our members, and those who contributed to the first issue, all posting a teaser PDF to whet people's appetites. As word-of-mouth spreads, the potential readership can only increase.'
Issue two of Muse is scheduled for distribution towards the end of August. Litopia members who would like details of how to get involved can email muse(at)litopia(dot)eu or keep an eye out for announcements within the Colony.
# # #