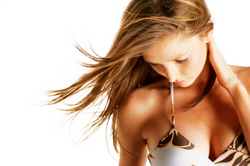 "I suggest splurging a bit and investing in a great fit...Quality makes a difference when it comes to the art of body disguise."
Las Vegas, NV (PRWEB) May 4, 2010
Even self-proclaimed fashionistas know that choosing a swimsuit is tough. "You are, after all, practically naked when wearing one," says Tracey Vest, fashion consultant for ShopForClothes.com.
Before color or print, decide which body features to play up or hide. "Unless you've got a model-perfect body and can throw on any ole suit, I suggest splurging a bit and investing in a great fit. You might have to pay a prettier penny but it will be worth it. Quality makes a difference when it comes to the art of body disguise, especially with bathing suits," says Vest.
Vest predicts that hot brands this year will be Sonia Vera, OYE, and Letarte (which was featured in this year's Sports Illustrated Swimsuit edition). She also suggests checking out designers and brands that are known for their street clothing lines like DSquared2, Juicy Couture and Ella Moss. Old Navy and Gap, as example, offer more budget friendly options.
Here are Vest's 10 tips for playing up or down specific areas:
1. Bust enhancing - Women can draw attention to the bust, making it look fuller than it is using ruffles. Layers of tiered ruffles on top instantly add volume and give the illusion of a fuller chest.
2. Butt minimizing - An extra band of fabric around the hips, even a few inches, can camouflage a more ample rear end while still leaving a bit to the imagination. Shop higher end brands that are cut well and allow purchasing pieces separately for best fit top and bottom.
3. Body lengthening - A plunging V-neck or tankini style helps to create a slimming line down the center of the torso and higher cut leg openings make legs appear longer. Solid, dark colors are good choices for a lengthening visual.
4. Eliminating love handles - Bottoms with adjustable ties on the sides ensure that the suit won't cut into hips; this provides a customized much more flattering fit.
5. Bust lifting - A slight curvy sweetheart top gives a chest a nice, defined shape, while the bra-like underwire provides exactly the right amount of support.
6. Tummy concealing - Strategic ruching around the mid-section hides any hint of a paunch, and the one-piece construction is ideal for holding everything in.
7. Heavy thighs? Look for a sarong that matches a suit or try a skirted swim suit. There are styles called skirtinis that look completely modern and hip.
8. Want a miracle? Try the Miraclesuit…seriously…this company makes swimwear that will shape and firm like Spanx does under clothing. Read extra firm control with great style.
9. Buy the right size. Don't worry about sizes! Go for fit. If a plus size, plus sized swim wear will look best.
10. One-piece, tankini, monokini, bikini?…the range is out there in every designer's line. "Wear what you feel good in," says Vest. "There are no in or out styles. You want to be able to enjoy a great time so wear something you can move in so you can concentrate on having a ball... If all fails find a beautiful cover up to throw on after swimming."
ShopForClothes.com offers a swimsuit finding solution now. Type swimwear into the search bar and scan the choices. You can also search by brand name. Pop choices into a personal Virtual Closet on the site and decide - better yet email the closet to a friend or family member for an opinion or purchase (hint, hint).
###