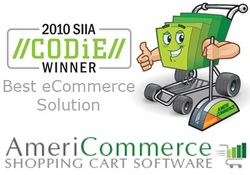 Being recognized as the first in our industry segment to receive the CODiE award for the Best eCommerce Software category is an exciting endorsement
Beaumont, TX (PRWEB) May 18, 2010
AmeriCommerce, an eCommerce Shopping Cart Software company was announced the winner of the 2010 CODiE Award for the Best eCommerce Solution. While many others have tried, AmeriCommerce is the first software as a service (SaaS) platform dedicated entirely to selling products online to win the award. The announcement was made last week at the CODiE Awards in San Francisco, California. Other recipients of the award have included such companies as Quickbooks, IBM, and PayPal.
The Software & Information Industry Association's (SIIA) CODiE Awards program, the only peer-reviewed honor in the industry, has raised the standard for excellence and serves as a prestigious representation of outstanding achievement and vision in the software and information industry. AmeriCommerce has been voted a CODiE award finalist in 2007, 2008 and 2010 and took home the crown for 2010.
AmeriCommerce attributes its success to listening to business community feedback and understanding the problems online businesses face. With a strong combination of industry research and eCommerce business community input, AmeriCommerce has evolved to provide business solutions making the setup and management of an online store easy and scalable. "Our knowledgeable team and community of clients have helped shape an award winning shopping cart solution and we are thankful for their continued feedback, dedication and work. Our company provides a unique value proposition, fully hosted off-the-shelf software with customization capabilities to tailor AmeriCommerce to specific business needs. Everyone wins." said Ed Sturrock, Co-Founder and Vice President of Product Management
AmeriCommerce pioneered Multiple Storefront Technology™ and is an eCommerce solution with robust online store management and marketing tools, leading the industry in the quantity and depth of features, tools and number of integrations (over 165) with software tools businesses already use. Setting up and managing large and complex catalogs with multiple price points, promotions and shipping configurations are standard features of the product. Additionally, the software can be used by any website or application on any platform or can be the entire front end website as well.
"Since 2000, AmeriCommerce has always pushed expectations of what online store software should be," said Stefan Barlow, Co-Founder and Vice President of System Operations. "Being recognized as the first in our industry segment to receive the CODiE award for the Best eCommerce Software category is an exciting endorsement that AmeriCommerce is indeed more than a shopping cart, we are an eCommerce platform."
"We are thrilled to receive the recognition from SIIA. The process was extremely competitive making the recognition even more valuable. Our vision is to continue to develop best of class features while maintaining the eCommerce leadership position for innovation. This commitment will allow our customers to be industry leaders for years to come," noted Charlie Cooper, President.
"Now in its 25th year, the CODiE Awards continue to recognize those companies providing the best new technology products and services across a broad array of industries," noted SIIA President Ken Wasch. "In addition, its winners are a prolific testament to the power of technology to deliver innovative solutions to businesses and consumers. SIIA warmly congratulates all of the winners and nominees of the CODiE Awards, whose innovation is essential for continuing America's leadership in the global knowledge economy," Wasch continued.
About AmeriCommerce:
AmeriCommerce is a full service e-commerce solution provider empowering merchants to sell online easily. In production since 2000, the AmeriCommerce shopping cart software is built on the concept of marketing performance, ease of use, flexibility and customization. AmeriCommerce pioneered the Multiple Storefront Technology™ and provides their customers with everything they need to design and operate successful online storefronts. For more information, visit the AmeriCommerce web site at http://ww.americommerce.com.
About SIIA:
The Software & Information Industry Association (SIIA) is the principal trade association for the software and digital content industry. SIIA provides global services in government relations, business development, corporate education and intellectual property protection to 500 leading software and information companies. For further information, visit http://www.siia.net/codies/2010/winners.asp
# # #