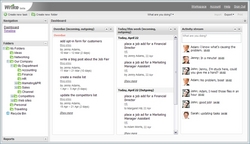 Wrike.com is revolutionizing the way millions of business users collaborate via email by bringing real-time Web 2.0 collaboration to their inboxes.
San Francisco, CA (PRWEB) May 3, 2010
Wrike.com is revolutionizing the way millions of business users collaborate via email by bringing real-time Web 2.0 collaboration to their inboxes. With the release of the new version, Wrike has turned its online project management software into an email-integrated, real-time project collaboration and productivity solution.
"For many of us, there's no doubt that in 3 years, SMBs will use next-generation, Web-based tools that make collaboration much more efficient than last century's email. However, replacing email may just not be what business teams are longing for," said Andrew Filev, CEO at Wrike.com. "Our experience shows that tight integration with the most ubiquitous communication tool, email, proves to be a better approach. Wrike won over thousands of project teams, thanks to its unique ability to turn whole email threads into tasks and projects shared online. Now, with the release of the new version, we're taking another big step in helping business users worldwide maximize their project management efficiency. During the last few months, the Wrike team has been passionately working on the right project productivity formula. We are excited to present our new version at the Web 2.0 Expo."
In addition to advanced project management features, such as the already widely popular email integration, unique flexibility and interactive Gantt charts, Wrike delivers a number of new functions that maximize user satisfaction and greatly improve overall team productivity.
Faster Performance, Clean and Intuitive User Interface
The new Wrike is designed for speed and productivity. Every action — like creating a task or a project, assigning it to a team member, sharing project data with a team, or attaching a file — is done in a click or two. The new streamlined interface was developed based on extensive usability studies and deep analysis of Wrike users' feedback. New users are able to start actively collaborating on their projects the very moment they enter the workspace for the first time. No training is needed.
Unparalleled Personal and Team Productivity
The dashboard is turned into a powerful, yet simple, personal productivity tool in Wrike's new version. Upon opening the dashboard, team members immediately see what they should be working on today and get real-time updates from their peers. Managers easily coordinate the work of their staff and closely follow the progress of multiple projects.
Social Project Management
Wrike's new version takes the best of social networking and applies it to project management to maximize the productivity of the whole team. Avatars bring a visual experience to teams' online interactions, and they make the online workplace much friendlier to all users. Thanks to this feature, the management platform becomes more engaging, which results in growing efficiency of project collaboration.
Real-Time Insight into Projects
The new Wrike gives project managers an ability to simultaneously see their tasks and projects compiled in a list and visualized on a Gantt chart. The list view provides them with most important details about any particular task, including due dates, task duration and the people responsible for it. The Gantt chart pane visualizes all the team's changes to project plans in real time. It also allows users to instantly reschedule tasks by dragging and dropping items. This powerful tool puts managers in control of their project data and gives them a 1,000-foot, real-time view of what their teams are working on.
Wrike's "killer feature" is its smart email integration, which lets users create tasks and projects by simply sending emails to the online project management system. It allows business users to stay in their familiar environment, email, and brings real-time, online collaboration to their inboxes at the same time.
To see Wrike's new version in action for free, please visit http://www.wrike.com.
About Wrike
Wrike (http://www.wrike.com) is the leading on-demand, online project management and collaboration solution. It provides teams with a unique platform for collaborating on multiple projects in one workspace in real time. Wrike's collaboration features give a significant productivity gain to diverse small and midsize companies (http://www.wrike.com/stories.jsp) and are known to save managers up to 30 working hours per month. Its email integration is the most advanced in the project management space. Wrike, Inc. has patents pending. Founded in 2003, Wrike, Inc. is a privately held corporation located in California.
###