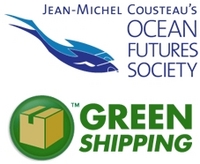 "this is a time when each of us wants to be part of the solution to protecting our environment from polluting lifestyles, and Greenshipping.com is one way. Their comprehensive calculations of the carbon footprint generated by individuals and businesses
Hood River, OR (PRWEB) July 20, 2010
Jean-Michel Cousteau's Ocean Futures Society has recently completed an expedition to the Gulf of Mexico to explore and document the damage caused by the BP oil spill. In recognition that the expedition itself has an environmental impact, the Ocean Futures Society has teamed up with GreenShipping.com and the Bonneville Environmental foundation to measure and offset the carbon dioxide emissions generated by the expedition. The emissions analysis performed by Green Shipping considered emissions from all the air, ground, and boat transportation as well as lodging used for the expedition. Carbon offsets from Bonneville Environmental Foundation are then purchased to neutralize the footprint of their expedition. The funds from the offset purchases are invested in sustainable energy projects that help reduce our nation's dependence on fossil fuels.
Jean-Michel Cousteau, President Ocean Futures Society, believes that "this is a time when each of us wants to be part of the solution to protecting our environment from polluting lifestyles, and Greenshipping.com is one way. Their comprehensive calculations of the carbon footprint generated by individuals and businesses help us see in very real terms what we are contributing to the problem and how to mitigate its effects. This is something we can all do now."
In addition to offsetting emissions from their recent Gulf expedition, the Ocean Futures Society has partnered with Green Shipping to measure and offset the emissions from their day-to-day shipping activities. As a certified GreenShipper, Ocean Futures Society offsets the shipment emissions from all items purchased through their online store using GreenShipping.com.
"While GreenShipping specializes in calculating and offsetting the environmental impact of package and freight shipments, we were happy to help the Ocean Futures Society measure and offset their expedition." said Ken Whiteman, Founder and President of GreenShipping.com, "They are providing valuable insight into the oil spill disaster and our team wanted to help any way we could."
About the Ocean Futures Society http://www.oceanfutures.org
The mission of Ocean Futures Society is to explore our global ocean, inspiring and educating people throughout the world to act responsibly for its protection, documenting the critical connection between humanity and nature, and celebrating the ocean's vital importance to the survival of all life on our planet.
About GreenShipping.com: http://www.greenshipping.com
Green Shipping provides businesses with automated tools for measuring, reporting, and analyzing supply chain transportation emissions. Offering a fully automated platform Green Shipping makes it easy for a business to measure, report, and offset their emissions regardless of the carriers or modes of transportation they use.
###