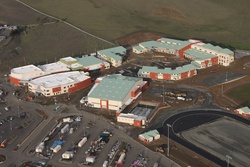 Santa Rosa, CA (PRWEB) June 17, 2010
American Canyon High School is the first school in California verified by the Collaborative for High Performance Schools (CHPS)—the United States' first green building rating program especially designed for K-12 schools. A dedication ceremony will be held June 18th with doors opening to students in August. Developed to serve the growing community of American Canyon, Napa Valley Unified School District's state of the art high school campus is planned to accommodate over 2,000 students. Designed by Quattrocchi Kwok Architects, this highly sustainable campus features extensive daylighting, a geothermal system to minimize heating and cooling energy, recycled materials and a one megawatt photovoltaic power system which when complete will generate over 80% of the campus' electricity. ACHS will be formally recognized as CHPS Verified later this summer when construction is completed.
"For years, Napa Valley Unified School District has been active in establishing programs and obtaining equipment to save energy and lessen the carbon footprint of its operations. The construction of American Canyon High School brings the latest technologies and green operating features together, at one site. [By] incorporating green efforts into the learning environment of a high school rich with technological amenities from which students will participate and witness our changing world, is a very positive educational experience." - Don Evans, Napa Valley Unified School District.
"Upon setting foot on the American Canyon High School campus, students and staff will immediately know their community's commitment to them and to their school. ACHS has been designed to be a learning environment that is healthy and productive, as well as resource-efficient and community-oriented. It is truly a model high performance school. Napa Valley Unified showed an early commitment to 'green' by being the first to go through the CHPS Verified design review in California. We will be lucky to count such an impressive project among the list of CHPS Verified schools." – Bill Orr, Executive Director, Collaborative for High Performance Schools.
About Quattrocchi Kwok Architects:
Founded in 1986, Quattrocchi Kwok Architects (QKA) is an award-winning architectural firm based in Santa Rosa. Offering responsive design work that supports those who use the facilities they create through client centered design, human scale, innovation, and sustainable practices; QKA's diverse portfolio reflects the firm's commitment to design that responds to use, climate and the community. With a staff of 49, QKA has provided design services for nearly $1 billion of public and private projects. This experience includes master planning, new construction, renovations and historical restoration. For more information visit: http://www.qka.com .
About Collaborative for High Performance Schools:
The Collaborative for High Performance Schools created the nation's first green building rating program developed especially for school learning environments. The mission of CHPS is to make schools better places to learn by facilitating the design, construction and operation of a new generation of high performance schools - places of learning that are environmentally sustainable, healthy and comfortable. CHPS Verified - third-party green rating system - was started in March of 2007. Currently, the program is offered in four states and there are 43 projects registered in California.
###