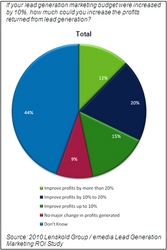 "It is evident that there is more profit potential in lead generation marketing that can be achieved with better tracking, effectiveness measurements, and ROI discipline."
Manasquan, NJ, USA (PRWEB) June 21, 2010
Marketers with sufficient insight to estimate the profit potential from an increase in lead generation marketing indicate that there is untapped profit potential, according to the 2010 Lenskold Group / emedia Lead Generation Marketing ROI Study released today. Of those B2B lead generation marketers providing an estimate of the incremental profits from a 10% increase in their budget, 6 in 10 expect a profit increase of greater than 10%.
The challenge is that almost half (44%) of the B2B lead generation marketers surveyed lack the insight to estimate the profit potential, responding "don't know" when asked how much could profits be increased with the additional 10% increase in marketing budget.
This does not reflect well on the credibility or confidence that segment of lead generation marketers have with senior executives.
Conversely, those marketers who are using ROI metrics, and also tend to have better measurement capabilities, were more likely to report profit potential above 10% and less likely to indicate that they "don't know" the profit range expected from a budget increase. In addition, a top tier segment of "highly effective and efficient" marketers showed even more confidence and know-how for increasing profits given the opportunity to perform with an increased marketing budget of 10%.
Key findings from the research study that examined marketing ROI and measurement practices of a worldwide sample of 231 lead generation marketers (available for download at http://www.lenskold.com/LeadGenROI_2010) include:

Tactics marketers rated as most effective in driving high value leads likely to convert to sales favored those that engaged and educated contacts, including educational webinars, e-newsletters, product trials, and white papers/ebooks.
The most effective tactics for the segment of highly effective and efficient marketers showed more of a mix and balance across educational and promotional marketing
Nurturing stalled leads was reported as the area of marketing where most marketers indicated the funding level was too low relative to the profit potential.
B2B lead generation marketers using ROI metrics were more likely to anticipate much greater growth than their competitors (22% vs. 10% of all others).
"It is evident that there is more profit potential in lead generation marketing that can be achieved with better tracking, effectiveness measurements, and ROI discipline, ," says Jim Lenskold, president of Lenskold Group. "Higher performing marketing organizations are focused on lead quality, sales conversion and long-term customer value. With the confidence of financial measurements and ROI discipline in their tool kit, highly effective and efficient marketers are better prepared to accept or request additional lead generation budget."
"The study clearly shows that quality lead generation investment brings outsized returns – made evident by that wing of B2B marketers that support their decisions with well-honed measurement & tracking processes" commented Robert Drew, Marketing Manager of report sponsor emedia.
Media
The full 31-page report, available at http://www.lenskold.com/LeadGenROI_2010 for free download, includes an executive summary, recommendations, and detailed findings. The report also includes sponsor commentary from emedia, a company that specializes in B2B lead generation.
About Lenskold Group
Lenskold Group offers one of the most comprehensive and innovative approaches to applying marketing ROI techniques and tools to plan, measure and optimize marketing strategies toward maximum profitability. Lenskold Group combines financial discipline and a unique blend of measurement methodologies to deliver practical solutions that establish accountability and credibility for marketing organizations. The company has delivered high-quality consulting and marketing services to generate profitable growth for a broad range of client companies since 1997. The senior management team of accomplished professionals provides cohesive and comprehensive solutions in the area of marketing ROI processes, measurements and analytics. Company President and Founder, Jim Lenskold, is author of the award-winning book, Marketing ROI, The Path to Campaign, Customer and Corporate Profitability. To learn more about Lenskold Group and its innovative services, visit the Lenskold Group website at http://www.lenskold.com.
###