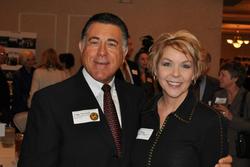 "The Public Defender Shinaver Continues Mud Slinging Smear Campaign Into Final Days of Election, While Judge Petrucelli Holds True To His Commitment To Run A Clean, Honest and Fact Focused Campaign"
Fresno, CA (PRWEB) June 5, 2010
Judge Jim Petrucelli is honored by the outpouring of support his campaign has received from community leaders - elected and business leaders - as well as average voters. His campaign for re-election has been hailed as a landslide victory in the making by political experts.
"People hate to see the dirty political games played by candidates" said Peter De Young of Alliance Public Relations. He added, "Mr. Shinaver has resorted to running a shameful smear campaign of total desperation. I almost feel embarrassed for him. His desperate attempts to mislead the community have shown who he really is, and the voters don't like it". This is Shinaver's second campaign to become a judge. In his last campaign he came in last place among four candidates.
Judge Petrucelli, who has dedicated more than half of his life to serving the community, has been touched by those who support his re-election. "This election has allowed me an opportunity to reconnect with the people of the community. "I am honored by their words of encouragement, their financial support and volunteer efforts" said Judge Petrucelli. "This campaign has brought me closer to my God, my family, my friends and to those I serve. It has reaffirmed why I do what I do".
Judge Petrucelli has raised more than $90,000 in his campaign to date with support coming from a very wide range of associations, law enforcement groups and individuals. In sharp contrast and according to his publicly disclosed financial records, donations and other support for Shinaver's campaign have fallen flat, with his parents donating the bulk of his contributions to buy ads and signs. Signs he placed (and continues to place) on private property without permission of the property owners and on public property which is prohibited.
###