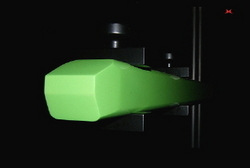 It is not only possible but probable that the RTS will significantly improve the quality of live amplified performances and recording studio sessions
Salem, OR (PRWEB) June 8, 2010
Dynamic Contrasts, LLC, a small engineering company specializing in vibration management products, announced the release of its flagship RTS performance-oriented racking system. Although its design appears to be simple albeit unique, with 7 years of research and development and several patent pending features, the RTS is no ordinary racking system. Rather the RTS is quite possibly the missing link for perhaps every sector of the entertainment industry utilizing vibration-sensitive components.
"The RTS may look simple enough but to the best of our knowledge it's the most extreme form of proper vibration management ever made available for commercial and private use," says John Stehno, president of Dynamic Contrasts. "The RTS pulverizes multiple times over that low-performance limiting glass ceiling that has plagued every last audio and video system until now. We fully expect the RTS to be the single biggest performance impact the entertainment industry will ever encounter, and by a very wide margin."
Over the past few decades the industry has released a small host of high resolution formats, surround sound configurations, certifications, noise reduction systems, and other electronic innovations that many times were accompanied with the assurance of producing lifelike performance. However, it's no secret that even today's best audio and video playback systems are still unable to capture the vast majority of the magic or believability of a live performance.
According to Stehno, "The reason for this lack of performance advancement is simple; until now the industry has never seriously considered electronic components as vibration-sensitive instruments. As such the industry had no clue that vibrations induce far more harm than all other distortions and system shortcomings combined. These mechanical distortions have so crippled the industry's electronic component's intended precision and accuracy we speculate that until now perhaps only one-quarter of all information embedded in a given recording was processed."
Stehno added, "Apart from curing the root cause of this failure, there is no other innovation or technological advancement that could ever break through this low performance glass ceiling. It would seem this fact has already been well established. By introducing one electronic innovation after another the industry sought to resolve only the effects but never the cause of these most severe mechanical distortions when all along a mechanical solution was required. This is precisely why every previous innovation could only provide a small incremental improvement at best. In other words, until now the foundation of any performance-oriented system has been completely overlooked. But when the right foundation is laid, every component's full potential is realized."
Dynamic Contrasts' focus has been primarily high-end audio and video, but since vibrations make no distinction between amplified, recording, and playback signals, or between audio and video signals, Dynamic Contrasts fully expects the RTS to provide similar performance results for live concert s, recording studio sessions, and commercial movie theater sectors as well.
"It is not only possible but probable that the RTS will significantly improve the quality of live amplified performances and recording studio sessions," says Stehno. "In fact, vibration distortions and their remedies are so universal that we anticipate the RTS' benefits to extend beyond just the entertainment industry. However, the performance improvements are never so easily apparent as by a simple listening or viewing demonstration."
Dynamic Contrasts is already finalizing its first licensing agreement with one high-end audio manufacturer and anticipates more licensing opportunities as industry standards develop.
For more information about the RTS, visit http://www.dynamic-contrasts.com.
Contact:
John Stehno, President
Dynamic Contrasts
503-585-6677
[email protected]