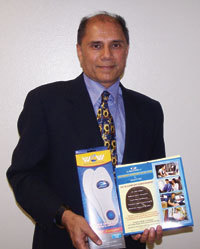 "I'm a transit bus driver and I'm in the seat for long hours sometimes. When I first looked at the seat pad I thought 'no way can this help'. Then I used it and 'Wow! I will never be without it again.' The support it gives is unbelievable for such a thin
Irvine, CA (PRWEB) June 1, 2010
Shakti, Inc. is producing products that help relieve foot pain, backaches and knee pain. The magic name is "LiquiCell" which is a patented ultra-thin liquid membrane technology designed to improve comfort and acts as a shield at the "hot spot" or point of contact on shoes and chairs.
This new LiquiCell technology is available in "Walk on Water" Shoe Insoles, Shoe Inserts and also the Extended Comfort Seat Pad.
Steve Gambhir, CEO of Shakti Inc. is all fired up about the company's new products which hit the local market early this year. Tapping into the ground breaking LiquiCell technology, Shakti Inc has developed products that ironically increase the level of comfort for those on their feet for extended hours and diametrically opposite, those who sit on their backside for long hours! The three products the company is aggressively marketing are' Walk on Water ' (WOW!) Insoles, LiquiCell Shoe Inserts, and LiquiCell Extended Comfort Seat Pads.Gambhir reveals how over the years he had always looked for ways to soothe his aching feet. This is why he got into this business. "As we grow older we begin to lose our once plump cushions in the feet.
LiquiCell is an ultra-thin liquid membrane technology specifically designed to improve comfort and acts as a shield at the point of contact. Placed strategically at the ball of the feet and the heel in our insoles and inserts, LiquiCell imitates the body's natural function to reduce shear stress and friction to equalize pressure. The Seat Pad increases comfort as there is no tail burn, fidgeting or numbness," he adds.
Furnishing more facts, he says LiquiCell Insoles reduces foot discomfort, friction and fatigue. It is ultra- thin and does not change the fit & stability of the shoe and works because it is thin.
Other gel & foam insoles take too much room and make shoes tight and the wearer ends up not wearing them! The inserts are excellent for ladies shoes, open shoes, flip flops and men's fashion shoes and tight fitting shoes as they take no room. The insoles are priced at $19.99 and inserts at $14.99.
On a personal note he recalls how a couple of years ago he was detected with high cholesterol and his doctor wanted him to lose at least 20 lbs. He was advised to go on a strict diet along with walking 50 to 60 minutes a day. He started walking an hour a day, but his sore feet used to hurt and he developed knee pain, which slowed him down. That's when he was introduced to the Liquicell Technology. He used the LiquiCell Insoles which are ultra-thin and yet so effective and he is glad to report that he lost 28 lbs and has kept it off!
The LiquiCell Seat allows improvement in blood flow to 150 %. A person can sit longer with no hot spots, pressure on the tail bone and spine. Thus it can be used on the office chair, concerts, games, by long distant truck drivers, while traveling on trains and planes. It is good for temples and Gurudwaras where one has to sit on the hard floor and for meditation and yoga. The seat is ultra thin, light, can be easily folded and carried along in the free carrying bag. It is priced at $49.99. Recaro, the high end seating company also sells a $3000 chair with Liquicell pad built in. Toyota is also using the pads in some of their models.
Shakti Inc is located at 19782 MacArthur Blvd. Suite 225, Irvine, CA 92612, Phone: 949-975-8219,
1-800-307-9082 Website: http://www.ergo21.com
###