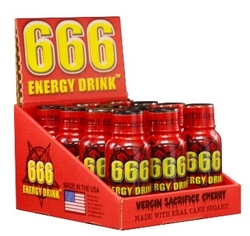 "666 Energy Drink is intended to be shocking, irreverent and controversial."
Reno, NV (PRWEB) June 1, 2010
666 Ventures LLC, an American producer of caffeinated energy drinks, is proud to annouce the launch of 666 Energy Drink. 666 Energy Drink is available in two flavors, "Virgin Sacrifice Cherry" and "Lucifer's Lemonade." "The goal from the beginning was to create the best tasting energy shot on the market. Our competitors' products taste like chemicals mixed with vitamin pills, whereas 666 Energy Drink tastes like liquid caffeinated candy," says 666 Ventures founder and owner Jason Mayeroff.
666 Energy Drink is sold as a large 4oz shot, whereas most energy shots are 2 oz, so the consumer receives twice the product for less than the price of the main competitors in the energy shot category. The future flavors of 666 Energy Drink are "Hellfire Orange," "Wrath of Grapes" and "Apple Anarchy."
"666 Energy Drink is intended to be shocking, irreverent and controversial. We intend to grab America by the nuts with our powerful brand and our cocky, bombastic marketing. Our brand name, 666 Energy Drink, and our slogan 'Get Some Evil in Ya!' are simple, powerful and memorable, and will become iconic American buzzwords. 666 Energy Drink is like a train wreck, and everyone loves a good train wreck," says Mayeroff.
The target consumers for 666 Energy Drink are active and agressive young men and women. 666 Energy Drink appeals to a broad section of the young and young-at-heart who want to party all night, study all night or just have a great time for hours on end. "I am quickly finding that the 666 brand appeals to a much broader section of America that just heavy metal music fans," says Mayeroff. "I had many requests for one of our "Satan Said Swallow!" T-shirts when I was doing promotions in the Bible Belt recently."
666 Energy Drink is available in 500 convenience stores, mainly in the eastern United States, and will soon be available in supermarkets, night clubs and bars all over the USA.
CONTACT:
Jason Mayeroff
Jason(at)666energy(dot)com
Telephone: 1-866-666-3772
Website: http://www.666energy.com and interactive consumer updates on Facebook.
http://www.facebook.com/666energy
http://www.twitter.com/666energy
###