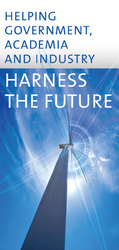 The unique structure of NIRE and its relationship with The Wind Alliance provide the opportunity to develop the nation's wind and renewable energy resources.
Houston, TX (PRWEB) June 16, 2010
Last month, during the Windpower 2010 Conference in Dallas, The Wind Alliance joined the Innovate Texas Foundation and the Texas Tech University System in announcing the formation of the National Institute for Renewable Energy ("NIRE"), an independent public-private collaboration that works to solve key scientific and technology challenges facing the wind power industry. The Wind Alliance will manage NIRE's industry consortium.
John D. White, Managing Director of The Wind Alliance, commented "The unique structure of NIRE and its innovative relationship with The Wind Alliance provide partners the opportunity to achieve individual goals while helping to solve issues facing the wind energy industry on a national scale."
The Wind Alliance develops infrastructure, technology and workforce through large-scale and small-scale pre-competitive collaborative projects between industry, academia and government within the U.S. Headquartered in Houston, Texas, it is an independent, 501(c)(3) non-profit. Three active operating committees allow working relationships to develop between wind industry leaders with a focus on advancing the wind power industry in an effort to achieve the important national wind energy goals of 2030. These goals were spelled out in the U.S. Department of Energy (DOE) 2008 report, "20% Wind Energy by 2030: Increasing Wind Energy's Contribution to U.S. Electricity Supply."
"We are pleased to partner with The Wind Alliance to provide incremental value to industry partners and further enhance the performance and reliability of the wind and renewable energy sectors" said David L. Miller, Chairman of the the National Institute for Renewable Energy.
The National Institute for Renewable Energy is a non-profit, public-private partnership that will design, construct and operate research wind farms and other renewable energy facilities. These renewable energy facilities will generate power to be sold in the commercial marketplace, with a portion of the revenue going to fund research initiatives aimed at reducing the costs of renewable energy. NIRE will also provide services to industry partners such as prototype testing, certification and technology development in conjunction with its industry consortium, which will be managed by The Wind Alliance.
"NIRE was added to our portfolio to enhance value for industry members by combining The Wind Alliance's current services and benefits with a concurrent NIRE membership. We offer a venue for wind industry problem identification and solution incubation, where complimentary organizations such as NIRE are vehicles to achieve results on our large-scale goals through tangible competitive and pre-competitive projects," said Claire Henkhaus, Associate Director of The Wind Alliance.
David Nance, Chairman of Innovate Texas Foundation and NIRE board member, commented "The tremendous advancements in renewable technology research and development from NIRE, complimented by the strong industry collaboration within The Wind Alliance, create a high impact initiative that will provide economic and workforce benefits throughout Texas and across the United States."
More Information about The Wind Alliance at: TheWindAlliance.org
Contact: Claire Henkhaus, Associate Director, (713) 600-9994, claire.henkhaus (at) TheWindAlliance (dot) org.
###