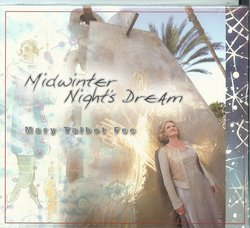 "Winter's dream enters my slumber, stills my thoughts, and encourages me to rest, renew and restore for the coming year's journey," ~ Mary Talbot Fee
San Diego, CA (PRWEB) June 18, 2010
Jazz vocalist Mary Talbot Fee will be the featured artist debuting her CD, Midwinter Night's Dream the week of June 18th on The Jazz Network Worldwide. The collection of jazz standards, international songs and contemporary compositions were produced by Rob & Amber Whitlock of Sketchin' Records. In addition, they composed three new songs for the disc, including the title track, which was co-authored by Talbot Fee, who fluently sings in four languages on the CD (English, French, Italian and Portuguese). Midwinter Night's Dream is the culmination of Talbot Fee's years of jazz vocal study with the likes of Kevyn Lettau and other well-respected vocalists. "Winter's dream enters my slumber, stills my thoughts, and encourages me to rest, renew and restore for the coming year's journey," reflected Talbot Fee about her inspiration for the project.
A masterful ensemble backed her in the studio including keyboardist Rob Whitlock (Jazz Crusaders, Eddie Harris), bassist Trey Henry (Tierney Sutton), drummer Cliff Almond (Michele Camillo), guitarist Pat Kelley (George Benson), percussionist Luis Conte (James Taylor), violinist Charlie Bisharat (John Tesh) and flutist John Rekevics (Checkfield) along with a talented cast of singers that included Amber Whitlock (Max Bennett) and Kleber Jorge (Sergio Mendes). Standards like "If I Had You" and Henry Mancini & Johnny Mercer's "Moment To Moment," sultry sambas ("Nuages"), romantic duets ("Anema E Core"), cabaret tunes ("On An Evening In Roma") and modern gems including John Lennon & Paul McCartney's "Norwegian Wood," Joni Mitchell's "River," and a pair from Stevie Wonder ("Knocks Me Off My Feet" and "Bird Of Beauty"). The three originals - "Winter Snow Ballet," "Inverno Di Gielo" and the title track - unify and further the album's motif – the gifts of winter - despite their varied stylings, moods and languages. "Mary is a wonderful story-teller in any language, she brings an authentic sound 'all her own,'" says Jaijai Jackson, creator of The Jazz Network Worldwide.
Talbot Fee grew up in New England in a musical household. Her mother, Angela, for whom the album is dedicated, was an opera singer and a musical comedy actress who performed at Carnegie Hall. With these influences there is no wonder that the end result of this musical project is sophisticated, swoon-inducing vocals that take listeners on an enchanting artistic and theatrical musical journey.
Come by The Jazz Network Worldwide http://www.thejazznetworkworldwide.com and 'listen in on' a vocalist that brings her authenticity to the jazz world, one song at a time. Additional information is available at http://www.marytalbotfee.com and http://www.sketchinrecords.com.
# # #