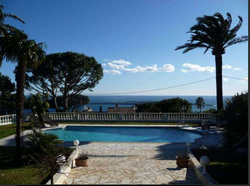 We are all very happy with the new Carlton look, and are happy for the property owners who work with Carlton International
(PRWEB) June 15, 2010
Carlton International have pulled off a fantastic website upheaval to jump into the 2010 summer season with a fresh new look and a property portfolio to match.
Renowned as the luxury property consultant on the French Riviera, with some properties worth over 50 million Euros, Carlton has come up with a modern yet functional website in three languages: English, French and Russian. The website shows off Carlton's prestigious properties for seasonal rental and for sale up and down the famous French coast line.
Already in 1st place of google.com for Luxury Property France, Carlton International has sealed their position as the leader in luxury real estate in the South of France. After Paris, the French Riviera boasts some of the highest prices per square metre in Europe, and Carlton International is the company behind many of these transactions.
Philip Weiser, real estate expert on the Cote d'Azur for over 20 years, and CEO at Carlton International praised the website development team for producing one of the 'most efficient' database driven property catalogues to date. He is looking forward to 2010 and working with his international clients. http://www.carlton-international.com took 18 months of hard work to put together with the marketing department at Carlton and two French Riviera digital agencies API and Relevance Web Marketing. The new website allows users to search for real estate in South France in a variety of ways for example by sea view, by architecture, or by luxury. This was the brain child of Sophie Chomette, Marketing Manager at Carlton International. She said on Friday night, "we are all very happy with the new Carlton look, and are happy for the property owners who work with Carlton International."
Property for sale on the South of France has leapt back into life with some French Immobilier recording price rises of up to 15% in the 2nd quarter to 2010. Carlton International is already in the rental rush with UK, Russian and American growth across the sector and has already sold some big French Riviera properties.
Carlton International are based in Antibes on the French Riviera and specialist in real estate Cannes, property for sale South of France, and luxury villas in the South of France. Contact Sophie Chomette in the Antibes Office for any questions on 0033 (0) 493 95 1111.
# # #